Mahāpatha Kundalini Intensive
With Douglas Johnson
October 31 - November 1, 2018
A Mahāpatha Yoga retreat is not a vacation but an opportunity to practice authentic esoteric yoga techniques in an ideal setting while being supported by a loving and accepting spiritual community and a knowledgeable and experienced teacher. Having the right teacher, community, and space when practicing can make the difference between success and failure when using these techniques. If you are serious about yoga as a spiritual path, then you owe it to yourself to see just how powerful and transformative these retreats can be.
This one-night retreat will focus on activating and strengthening the awareness and power of Kundalini Shakti, A.K.A. 'The Serpent Power.' This evolutionary form of life-force energy is usually most active during major biological transformations like procreation, embryonic development, puberty, and menopause. The rest of the time it lies dormant in the pelvic-area, and we only use a small amount to sustain our day-to-day activities. However, by using ancient esoteric Tantra Hatha Yoga techniques, we can awaken Kundalini-Shakti from her slumber and get her to aid and quicken our spiritual development. This process leads to a 'spiritual rebirth' and one who has successfully done this is called a Dvija or 'twice-born' in the yoga tradition.
WEDNESDAY PM ROUGH ITINERARY (subject to change without notice)
3p – 4p: Welcome
4p – 5p: Centering
5p – 6p: Vinyasa Yoga – (eliminates neurotic nervous energy)
6p – 7p: Yin Yoga – (opens nadis, meridians, or energetic channels)
7p – 8p: Yoga Nidra – (withdraws sense energies inward)
8p: Dinner
THURSDAY AM ROUGH ITINERARY (subject to change without notice)
6a – 7a: Pranayama – (balance, control, & expand vital energy)
7a – 8a: Bandhas w/ Bhastrika – (contain energy & dissolve psychoenergetic 'knots')
8a – 9a: Chakra Mantra Abhyasa – (awaken & balance psychoenergetic plexus')
9a – 10a: Mudras – (awaken & clear major energetic pathway for kundalini)
10a – 11a: Seated Meditation (integrate & balance entire psychoenergetic system)
11a: Brunch
PLEASE NOTE: This retreat is not beginner-friendly and prior experience with yoga, meditation, and the teachings of Douglas Johnson E-RYT 500, YACEP is highly recommended. You may familiarize yourself with Douglas' style by downloading free or paid content on his website or Patreon page or attending his classes in the Atlanta area. You may take this retreat on its own, pair it with the Meditation Intensive after, or add the Yoga Intensive to create a much more profound experience. I recommended you at least remain for the Meditation Intensive; otherwise, you risk experiencing excess mental, emotional or physical discomfort after. If you cannot stay, plan to get plenty of rest after your retreat. Discounts are available for attending multiple retreats. This retreat is not a Kundalini Yoga retreat in the style of Yogi Bhajan.
DISCOUNTS:  If you sign up for more than one retreat you will receive a tuition discount of $25 and a room discount of $25 for this retreat.  These discounts will be applied by Elohee after you register.
For more information about this retreat, please click here.
Leader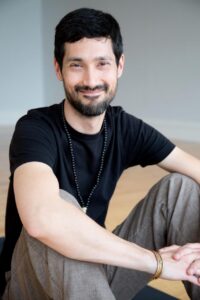 Douglas Johnson
With well over 1000 hours of training under his belt and a quarter of a century of teaching experience, Douglas Johnson – E-RYT 500, YACEP is one of the southeast's most experienced and well-trained yoga teachers. Founder of the Mahāpatha…
Learn more about Douglas Johnson