FALL BACK to basics: A Yoga & Kirtan Retreat
With Douglas Johnson
November 8 - 10, 2019
Hello, I'm Douglas Johnson E-RYT 500, YACEP, and I've been teaching yoga, meditation and chanting for over two decades now. I have studied with some of the world's best teachers, and on this retreat, I want to share with you the foundational yoga practices of what I call Mahāpatha Yoga. While these practices are basic, they are just as transformative as more advanced techniques and include Yin Yoga, Yoga Nidra, Kirtan, and Vinyasa. This retreat will be an excellent first retreat experience for someone who has never been on one of my retreats before and a great experience for anyone who likes doing yoga to live music.
TENTATIVE SCHEDULE*
FRIDAY PM
Opening Kirtan
Extended Yin Yoga Class w/ Live Music
Yoga Nidra
Dinner

SATURDAY AM
'Yin-Yasa' (vinyasa/yin) Class w/ Live Drumming
Advanced Yoga Nidra
Brunch**

SATURDAY PM
Kirtan Concert w/ the Mahāpatha Players
Dinner
Fire Pit / Drum Circle / Singalong

SUNDAY AM
Dharma Talk
Kids Yoga Nidra
Closing Kirtan
Brunch**

*Please note: this schedule is tentative and is subject to change without notice.
**Please note: there will be no breakfast served as it is better to practice yoga on an empty stomach. While I don't recommend eating before the first practice, if you feel you must have something to eat in the morning, please bring something to eat with you.
MORE ABOUT THE PRACTICES
YIN YOGA: was first popularized by my teacher Paul Grilley in the 2000s. It is a style of practice where you hold floor postures in a relaxed manner for extended periods. This practice is highly therapeutic and can result in profound healing and the spontaneous release of tensions in the body and mind. On this retreat, we will do a Yin practice every day.
YOGA NIDRA: is usually translated as 'sleep meditation.' In this practice, one reaches a state of deep conscious sleep where spiritual insight and physical, emotional, and psychological healing can happen quite effortlessly. On this retreat, we will use the Amrit-Method of Yoga Nidra and explore a Basic Yoga Nidra on Friday, Advanced Yoga Nidra on Saturday, and a Kids Yoga Nidra on Sunday.
KIRTAN is the yoga practice of call and response chanting in Sanskrit that was popularized in 16th century India by Sri Krishna Chaitanya. Today some of my teachers like Jai Uttal, David "Durga Das" Newman, Sean Johnson, and Russill Paul, have helped to spread and popularize this practice throughout the world. We will do at least a little Kirtan every day and will have a full concert on Saturday evening.
VINYASA: was popularized by Tirumalai Krishnamacharya and his disciple K. Pattabhi Jois in the last century. Since then it has spread to the west where it has become the predominant form of Yoga practice taught the world over. For many people who hear the word 'Yoga,' it is this practice that comes to mind. We will do a combination Vinyasa/Yin class on Saturday morning that I call 'Yin-Yasa.'
For more information about Mahapatha Yoga and Douglas, please click here.
Leader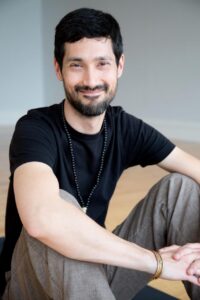 Douglas Johnson
With well over 1000 hours of training under his belt and a quarter of a century of teaching experience, Douglas Johnson – E-RYT 500, YACEP is one of the southeast's most experienced and well-trained yoga teachers. Founder of the Mahāpatha…
Learn more about Douglas Johnson