Phoenix Rising
With Erin Newman
October 7 - 10, 2021
A Shamanic Retreat for Healers, Messengers, and Leaders: Arise from the Ashes and Create Your New Vision
You are being called to rise from the ashes of the old and to step forward even more into your divine role as a messenger, healer, and leader. Join us and learn to connect to Source energy in the form of your spirit guides, power animals, and allies in order to create your divinely activated plan for your life, career, or business.  
You'll experience the power of Shamanic journeys, led by experienced facilitator and Shamanic practitioner Erin Newman, as well as guided meditations, time and space for creativity and insight to flow, walks in nature, ceremonies, release of limiting beliefs with advanced energetic tools, inner child work, and connection with our very own private waterfall. We'll also have a fire ceremony to burn down the old paradigms and beliefs and allow a new vision to light your path. 
Whether you've been called to write a book, offer a new program, service, or direction, or to be supported as you take on something bigger than you've ever imagined, our retreat will hold the space and energy necessary for you. This is your time, dear phoenix.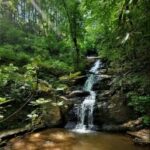 Thursday evening:
6:00 -7:00 pm: Evening Meal
7:00  -8:00 pm: Opening Ceremony
Sage cleansing – can be avoided for those with allergies

Introductions and connections
Friday:
9 am -12 pm: Phoenix Time

Intuitively guided Shamanic journeys and explorations of your phoenix nature

Journaling, sharing

12-1 pm: Lunch

1-3 pm: Reflections and Rest

Nature walks, individual time for spa services

3-5 pm : Phoenix Time

Release of Old Paradigm Beliefs

6-7 pm: Dinner
Saturday: 
9 am: Guided Meditation

10:00: Yoga

11:00: Aligning with Your Phoenix Nature

12:00: Creation of Your Aligned Actions Plan

1:00 pm: Lunch

2:00-4:00 pm: Reflections and Rest (Individual Time)

4:00-6:00 pm: Fully Embodying Your Phoenix Nature

6:00 pm: Dinner

7:00 pm: Phoenix Fire Ceremony: Burn Down What No Longer Serves You
Sunday:
8 am: Breakfast
9 am: Yoga
10:30 Creation of Your Aligned Actions Plan
12: Lunch and then Departure
(Please note that these times are approximate, however if you book a spa appointment, we will make sure to honor those times!)
Leader
Erin Newman
Erin Newman is a speaker, author, Money Mindset Mentor, and Soul Fire Ignitrix for women entrepreneurs. She helps business owners to overcome mindset blocks to money and income so that they can truly do what lights them up in their…
Learn more about Erin Newman