Empowered Lifestyle Women's Self-Care Retreat
With Stephanie Epps, Tee Brooks, Jen Buege and Ecclesia Savage
April 21 - 24, 2022
Friend, Mother, Sister, Aunt, Cousin, Mentor, and Coach—these are just a few of the titles you probably hold. There is always somewhere that you need to be, someone that needs your help, or a project that is awaiting completion. All the things to do, all the people to support, and not quite enough time for you.
The Empowered Lifestyle Women's Self-Care Retreat is what your mind, body, and spirit need. Spend 4 days relaxing, restoring, and transforming in the beautiful Georgia Mountains. Gather with women who are ready to heal, grow, and step into their power. Experience radical self-care and renew your mind, body, and spirit at the Elohee Retreat Center.
Embrace the practice of yin, slow flow, and restorative yoga throughout this weekend. Stephanie Epps will lead you through yoga, meditation, breathwork, and journaling during your four days of self-care.
Feel the vibrations of cathartic energy through sound healing with Jen Buege. Jen will guide you on a journey of release and peace via the crystal bowls, drums, and gong.
Tee Brooks will be leading you through discussion and reflection on boundaries, their function, and boundaries impact on personal power, communication, and relationships.
Ecclesia Savage, a licensed therapist will facilitate discussion on self-care, self-love, transition, and healing.
Enjoy a guided hike with views of waterfalls through the red clays hills of North Georgia. Connect with your breath and your spirit through silent meditation and journaling. You will experience a fire ceremony, where you will have the opportunity to release any thoughts or experiences that do not serve you.
This weekend you will design a vision board to depict your goals and desires for your life. Throughout this weekend you can safely and openly share your experiences and emotions without judgement or fear.
Downtime will include opportunities for self-reflection, resting, hiking, and massage. You will be able destress while sipping tea and communing with other retreaters at the 24-hour tea house.
We will end the retreat with meditation and reflection during our closing ceremony.
The Empowered Lifestyle Women's Self-Care Retreat includes accommodations, meals, fees, and tuition. Treat yourself to rest, restoration, and transformation. Transportation to the retreat center is the responsibility of the retreater.
Fore more information contact Stephanie at  hello@indigosoulyoga.com or visit  www.indigosoulyoga.com
*Covid-19 vaccination or negative Covid-19 test within 3 days of the retreat is required*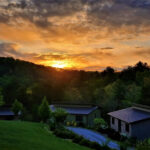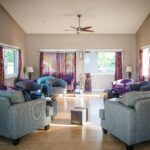 Thursday, April 21, 2022
3:00-4:00pm -Arrival
4:30pm -Welcome and opening circle
6:00-7:00pm -Dinner
7:45pm – Meditation and Fire ceremony
Friday, April 22, 2022
8:00am-9:00am – Breakfast
10:00am – Guided hike
12:00pm-1:00pm – Lunch
1:00-3:00pm – Free time
3:30pm-5:30pm – Boundaries workshop
6:00pm-7:00pm -Dinner
7:30pm-9:00pm -Restorative yoga and sound healing
Saturday, April 23, 2022
7am – Sunrise slow flow
8:00am-9:00am – Breakfast
9:00am-11:00am – Self-care, Self-love workshop
12:00pm-1:00pm – Lunch
1:00pm-3:00pm – Free time
3:30pm-6:30pm – Vision board workshop
7:00pm-8:00pm – Dinner
8:30pm – Sound bath
Sunday, April 24, 2022
7am – Sunrise Slow Flow + Yin
8:00am – 9:00am-Breakfast
10:30am – Closing ceremony
12:00pm – Lunch
1:00pm – Depart
Leaders