Mindful Life Retreat
With Amanda McCall, LPC
April 1 - 3, 2022
Join Amanda McCall, LPC for a relaxing and transformative weekend at Elohee Retreat Center in the beautiful North Georgia mountains.
From the beginner to those experienced in mindfulness, all will walk away rejuvenated and imbued with the powerful knowledge of how to use mindfulness to be more calm, focused, and joyful at work and at play.  If you have felt the effects of stress and/or anxiety in your life lately, this will be a wonderful opportunity to learn how to feel better and boost your resiliency going forward!
Included in the retreat:
Lodging in Elohee's cottages- click here to view- https://www.elohee.org/facilities/cabins/.
Healthy, chef-prepared meals for breakfast, lunch, and dinner.
Optional Massage/ Spa services *not included in program fee*.
Multiple learning sessions each day with Amanda, including several guided relaxation exercises.
Yoga class on Saturday.
Option to schedule a 10-20 minute individual consult with Amanda.
Guided nature walk through Elohee's diverse ecosystems featuring a 100ft mountainside waterfall.
***Every activity is completely optional.  All participants should feel free to make their retreat experience what they would like***
Amanda is a licensed therapist and owner of a private practice in Athens, GA where she specializes in stress, anxiety, and relationships.  She has been teaching mindfulness techniques for over 15 years and enjoys incorporating these skills with clients, helping them to be more present, aware, and relaxed in their daily lives.
To learn more about Amanda, please visit her website at www.Amanda-McCall.com. 
To contact her directly, email amccall.lpc@icloud.com or call 706.680.5146.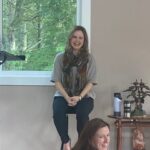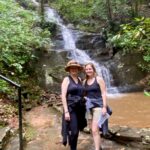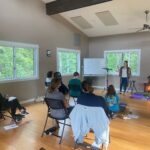 Schedule*
Friday
3:00-4:00pm- Check in
5:00-6:00- Welcome/Orientation
6:00-7:00-Dinner
7:00- 8:00pm- Mindfulness for Relaxation and Focus- including mindfulness exercise for better sleep
Saturday
8:00-9:00 Breakfast
9:00-9:30 Breathing Techniques for improved Focus, including 10 minute breathing meditation
9:30-10:15- Formal vs. Informal Mindfulness. How to incorporate both into your day.
10:15- Break
10:30-11:45- Yoga session
11:45- Break
12:00-1:00- Lunch
12:30-3:00- Break/ Optional individual sessions. Time for optional massage/spa appointments, naps, etc
3:00-5:00- Mindfulness in Everyday Life- navigating schedules, responsibilities, relationships, etc with more energy and ease. (Includes guided exercises)
5:00-Break
5:15-6:00- Walking Nature Tour/ Walking Meditation
6:00-7:00- Dinner
7:00-8:00- Mindfulness for Peace and Contentment
Sunday
8:00-9:00- Breakfast
9:00-9:15- Morning Meditation
9:15-11:00- The Power of Awareness/ Putting it all together
11-12:00- Break/ Optional individual sessions with Amanda
12:00-1:00- Lunch and Goodbyes
*Schedule is subject to slight changes.
Leader
Amanda McCall, LPC
Amanda is a licensed therapist and owner of a private practice in Athens, GA. Her specialties include stress, anxiety, and relationships. She has been teaching mindfulness techniques for over 15 years and enjoys incorporating these skills with clients, helping them…
Learn more about Amanda McCall, LPC