Seva-Yoga's Be Aligned Yoga & Meditation Retreat
With Sami Seva Jackson and Ruby Shiva Dasi Jordan
June 3 - 5, 2022
When we are living within our soul's purpose, we are living in alignment. It can feel like
everything is falling into place and is exactly how you want it to be. An abundance of
gratitude, love and peace may overcome you. However, when we are out of alignment with our soul's purpose, life can be draining or heavy and or no matter what, things are just difficult. This can manifest physically also, we can feel negative, sick, impatient and frustrated…
So how do we get into alignment?
First understand that it is not just one step, but by doing a bunch of little things that feel
good to you. Get inspired!!! The universe will take care of the rest, but make those first
steps… oh and always have a meditation practice .
Join Sami Seva & Ruby Shiva Dasi for a weekend of yoga, meditation and making time for a few of those little steps. Reflecting on a few of these ideas and techniques to help you set a daily pattern on your way to finding that alignment in your life.
What it means to stay true to yourself.
Why being true to yourself is important.
How to stay real.
1. Spend time alone every single day
2. Release emotions
3. Follow the feeling
4. Be intentional with your focus
5. Question everything
6. Stay in the present moment
Friday  
3:00 pm Check-in begins
5:15-5:45 pm Zen Meditation Instruction
(Helpful if you've not been on a Seva-Yoga Retreat or if you won't arrive in time an instruction sheet can
be emailed.)
6:00-7:00 pm Dinner
7:15-8:45 pm Gather in Mandala Hall – Smudging/Info
8:45-10:00 pm Fire Puja & Drum Circle (weather permitting)
Saturday
7:15-7:45 Zen Meditation
8:00-9:00 am Breakfast
9:00-9:15 am Group Photo by Reflecting Pool
9:15-10:00 am Break
10:00–11:30 am Kali Natha Yoga w/Ruby
11:30-12:00 pm Break
12:00 – 1:00 pm Lunch
1:15-2:00 pm Mantra
2:00-4:00 pm Break (waterfall hike, meditation, nap)
4:00–5:30 pm Hatha/Kundalini Yoga w/Sami
5:30-6:00 pm Break
6:00-7:00 pm Dinner
7:30-9:00 pm Yin Yoga & Sacred Sound Bath w/Sami
Sunday 
7:15-7:45 am Zen Meditation
8:00-9:00 am Breakfast
9:00-10:00 am pack up rooms
10:00-11:30 Pranayama w/Ruby & Yoga Nidra w/Sami
11:30-12:00pm Retreat wrap-up discussion
12:00-1:00 pm Lunch
All Times & Practices Subject to Change (except FOOD lol)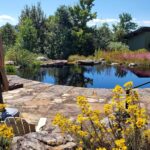 Leaders
Sami Seva Jackson
Sami Seva Jackson is a Yoga Alliance E-RYT 500/YACEP teacher and has been practicing yoga since 2003.  In July 2008 she received her 200-hour Raja Yoga teacher training certificate from The Sierra Center for Yoga Studies, in California, under the guidance…
Learn more about Sami Seva Jackson
Ruby Shiva Dasi Jordan
Shiva Dasi obtained her 200 hour Classical Yoga Teacher Training Certification from Kashi Atlanta Ashram in 2014, and is currently pursuing her 300 hour Certification for Kali Natha Yoga. She has been practicing yoga since 1999. While taking the teacher…
Learn more about Ruby Shiva Dasi Jordan