Unwind and Unplug Yoga Retreat
With Shalan Hill and Ann Pauley
November 11 - 13, 2022
If you've been stressed out and can't find your peace, consider taking in the deepest breaths of fresh mountain air as you sit with your feet dangling in the water of this crystal clear reflection pool. Your eyes soak in the views of the myriad of color of Nature's beauty. Mother Earth siphons away the worries from your body that's become this storage container for stress and emotions. Yet, this is just the beginning, as you haven't even made it to your first transformational yoga class. Your Yoga Space is in a stunning round, wooden room with 180 degree mountain views, and each class will continue the process of letting go and decompressing that nature has begun by just being at this place.
'Unwind and Unplug' from the daily grind at the Elohee Retreat Center in the North Georgia mountains. We'll shed the stress as Shalan or Annie soothes your Spirit in 4 yummy yoga classes. Our yoga practice gets us into our bodies and clears our minds, then Mother Nature will do the rest in this weekend of healing.  The retreat center is on top of Bald Mountain with incredible views of the surrounding Blue Ridge Mountains. Hiking trails, waterfalls, a gorgeous pond, and delicious food await you and we'll gather for a bonfire if weather permits. Beautiful souls gather here and good friends are made here, too. You'll have time to rest, or time to play, whatever you need to reset and remember that "All is Well."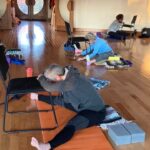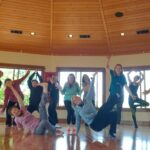 This Retreat Weekend is all-inclusive with:
​Two nights accommodations (including all fees & program tuition)
Meal service is provided from arrival day dinner through departure day lunch and is included in the price of the room. All meals prepared by a local chef using nutritious and delicious freshly-prepared ingredients. (the food is divine!)
A 24 hour tea house is always available.
​4 yoga classes (Friday evening, Saturday morning and evening, and Sunday morning) – morning classes will be gently active and evening classes will be more restorative to promote deep relaxation. Perfect for beginners and a delicacy for the experienced yogi/yogini.
​Bonfire/star gazing (weather permitting)
Access to great hiking trails, waterfalls, and a natural reflection pool
Bed sheets, towels, and bath amenities (soap, shampoo, conditioner) are provided for all rooms.
There's room for you! We have enough room for 26 special souls even with social distancing!  Have concerns about COVID-19?    We've booked the large yoga space (Mandala Hall) so there is plenty of room for social distancing, if needed!

​​
If you'd like to use your own yoga gear, please bring the following:
Yoga mat (floor is hardwood, so you may want 2 for cushion)
2 blocks (if you are very stiff, you may want to bring 4)
2-3 yoga blankets (Mexican blankets or wool blankets are great. You can also use large, thick towels. You want something that will hold its shape when folded. 3rd blanket is if you get chilly.)
1 yoga strap (a robe belt works great.)
Twin size sheet to cover your chair that we will use.
If you don't have any props, don't worry about it, there are plenty available, but may not be sanitized. (Sanitizing spray will be provided.)   ​
SCHEDULE
Friday, November 11
Check-in: 3pm-4pm
Yoga – Group 1: 4:30pm-5:45pm (75 min.)
Dinner: 6pm-7pm
Yoga- Group 2: 7:30pm-8:45pm (75 min.)
Saturday, November 12
Yoga- Group 1: 7am – 8am (60 min.)
Breakfast: 8am – 9am
Yoga – Group 2: 9:30am – 10:30am (60 min.)
Lunch: 12pm – 1pm
Free time: 1pm-4:30pm
Yoga-Group 1: 4:30pm-5:45pm (75 min.)
Dinner: 6pm – 7pm
Yoga-Group 2: 7:30pm-8:45pm (75 min.)
Bonfire: 845pm
Sunday, November 13
Yoga- Group 1: 7am – 8am (60 min.)
Breakfast: 8am – 9am
Yoga – Group 2: 9:30am – 10:30am (60 min.)
Lunch: 12pm – 1pm
---
Participant cancellation policy
A deposit of 40% of the total retreat fee is due upon booking. Balance is due one week
before arrival.  If you do not pay your balance due 7 days prior to the retreat, we will
automatically charge your credit card on file.
The deposit is refundable, less a $100 cancellation fee, if cancellation is made more than
2 weeks in advance of arrival.
If cancellation is made less than 2 weeks but more than 1 week in advance of arrival, the
40% deposit is non-refundable.
If cancellation is made less than 1 week in advance of arrival, the registrant is responsible
for payment of the entire retreat amount with no refund.This policy extends to all reasons for cancellation, including Covid-19.
If you are concerned about the financial risk, we recommend you purchase cancellation/trip
insurance.
---
If you have questions or for more information about the retreat, contact Shalan at Info@ThePostureProject.com or call 678-494-3450.  You can find Elohee specific guest information here.
I'm so excited to lead you into a Nature-induced Yogic Bliss!
​Love to you and See you soon!
---
Leaders
Shalan Hill
Shalan Hill, Retreat Leader and co-owner of The Posture Project, is a Licensed and Certified Massage Therapist (CMT & LMT) and a Certified Yoga Teacher.   Shalan began her study of yoga in 1998 and has been teaching since 2001…
Learn more about Shalan Hill
Ann Pauley
Ann Pauley, Assistant Retreat Leader, LMT, and co-owner of The Posture Project, empowers people to reclaim their lives to enjoy better health and confidence in their body & being. She is an ultimate teacher wherever she goes.  Whether she is…
Learn more about Ann Pauley