Yoga-Informed Psychotherapy Certification
With Livia Adia Budrys, LCSW, SEP, C-IAYT
August 8 - 14, 2022
The Yoga-Informed Psychotherapy training is aimed at introducing the provider to the use of yoga in the treatment of mental health and for improving wellbeing. Participants will explore the science behind why yoga works and introduce experientially the aspects of yoga that have been found to be highly effective in working with clients in a mental health context.
This training focuses on an integration of specific facets of yoga theory and skills, concepts in neurophysiology, and the neurobehavioral model of Somatic Experiencing and other body-based psychotherapies.
Through didactic presentation, experiential exercises, guided practice, dyad role play, group process and consultation, participants will walk away with a foundation in yoga philosophy and psychology, and in-depth skills for a spectrum of mental health concerns such as trauma-informed somatic therapies, breath-work, meditation, restorative yoga postures and an integrated lens of holistic based mental health treatment. Participants can also expect to gain new methods for self-care and ways to reduce burnout and restore professional wellbeing.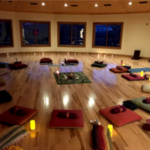 Course Objectives
Learn the physiology that ties yoga with mental health interventions.
Learn therapeutic applications of yoga that can be applied to practice with mood disorders, process addiction, substance abuse, relational concerns, and the survivor client.
Learn the somatic experiencing skills that integrate with Yoga and Psychotherapy
Understand how a yoga-informed psychotherapeutic assessment tool can give you a holistic understanding of your client. Learn to incorporate this tool.
Develop an embodied professional self and new tools to reduce burnout.
Understand the ethics of using this model and when to refer out to a yoga therapist or other specialized providers.
For more information on the training program, click here.
Ready to apply? Click here for the application.
*Please note, an application is required before you can complete your registration and secure your spot.*
For more information contact Livia at yogainformed@gmail.com or visit  www.yogainformed.com
Leader
Livia Adia Budrys, LCSW, SEP, C-IAYT
Livia, LCSW, SEP, RYT-500, C-IAYT (Founder, Faculty)  is a psychotherapist, social worker, yoga therapist and Somatic Experiencing Practitioner. She is the founder of the Yoga-Informed trainings and is an advocate of the shift in this paradigm towards greater understanding and…
Learn more about Livia Adia Budrys, LCSW, SEP, C-IAYT