The Second Coming of the Magdalene Fire – full immersion energetic alchemy retreat
With Rev. Dale Allen Hoffman and Loretta Hoffman
July 21 - 24, 2022
Have you always wanted to connect with the healing essence of Mother Mary and the Sacred Fire of Yeshua and Magdalene? Do you feel as if you are here for a higher purpose of "navigating the Cosmic shift," yet you are not sure what to do or how to begin? The second coming of Xristos and Magdalene is happening on the level of human awareness and the time is NOW. 
Join internationally renowned Ancient Aramaic wisdom keeper Rev. Dale Allen Hoffman with his Magdalene bride Loretta for a weekend of deep restoration and soul-level remembrance. Learn directly from one of the world's leading authorities on the incredible transformational power of the ancient Aramaic alchemy teachings of Yeshua [Jesus] and Magdalitha [Magdalene] in their original 2,000-year-old context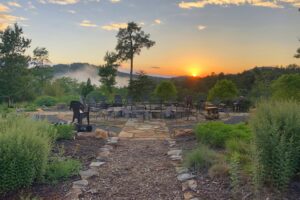 Some of what you will experience:
Bonfire Release Ceremony with fireside drumming and storytelling
Ancient Aramaic "central pillar" water blessing at the base of a 100-foot waterfall 
Body Temple Grail activation with Glastonbury Chalice Well water and heated Holy anointing oil on the Feast Day of St. Mary Magdalene [Friday, July 22nd]
Ancient Rookha Breathwork Process™: Through the Eye of the Needle
Heart-opening Criollo cacao sacred chocolate experience
Intensive Aramaic toning and vocal expression circles 
Multi-sensory PYRADYM™ Sonic Alchemy Immersion Circles
Loretta will guide you deeply into the profound experience of voicing your innermost longings through expressive movement
Profound Gnosis into the alchemical relationship between Yeshua, Magdalene and The Bridal Chamber, The Cathars, Essenes and Desert Mothers and Fathers.
Learn to awaken and continually evolve the most profound, transformational wisdom and healing powers for working in service of others
Create life-long, lasting family friendships to support you in living the profound, loving and ecstatic life that you were meant to live!
Free time to rejuvenate and connect with the Sacred land of Elohee.
Leaders
Rev. Dale Allen Hoffman
Reverend Dale Allen Hoffman is an Ancient Aramaic Wisdom Keeper, mystic and energetic healer revealing long-suppressed ancient secrets and healing modalities – Ancient Insight for the Present Moment. For over 30 years, Dale has been what many call "the teacher…
Learn more about Rev. Dale Allen Hoffman