Somatic Storytellers
With Annette Maria and Megan Barnhard
September 15 - 21, 2022
Aw yeah, baby. It's time to wake up your primal storyteller and experience divine connection through the body. 
✨Do you want to deepen the richness of your lived experience?
✨Wouldn't it rock to own who the fuck you are to the fullest?
✨Do you crave a more profound sense of wholeness, presence, and peace?
You're invited to retreat! Come experience MAGIC for 7 days and 6 nights in the majestic Blue Ridge Mountains at Elohee. 
This is sacred land that will reawaken your intuitive wisdom. You'll soak up the richness and remember your power to choose your story.  
Do you realize you were born a storyteller? Able to make meaning from what happens to you. So that it happens for you.
You are a walking embodiment of your lived experience. Your gut feelings, your chills of delight — they all spring from your primal storyteller. She's the one giving you that intuitive Fuck yeah! or Hell No!
But all that beautiful body wisdom can fall out of alignment when you don't update your stories.
Just like when a car is out of alignment. Your tires wear down quickly. You use up more fuel. You lose control, and it takes a lot of effort to keep moving in the right direction.
The Somatic Storytellers Retreat invites you to consciously and deliciously realign how your lived experience is expressed in your body. 
So your experiences aren't running you. You become the driver. You reclaim your choice. The richness and juiciness and queen energy of life come flooding back into you. And it's all at your fingertips once you learn to live alongside the experiences that you've had.  
Join us for a week of deep connection to your soul's deepest wisdom. You'll find stillness, laughter, cathartic joy, writing inspiration, ceremony, and community.

What to expect from your time at the Somatic Storytellers Retreat…
Morning centering practices
Somatic movement experiences
Soul-led ceremonies
Storytelling circles
Fireside gatherings
Writing play
Innocent exploration
Beautiful hiking trails
Delicious, nourishing food
Sisterhood and community
Spaciousness to simply BE
BYOD (Bring your own drum. 😉)
All meals and accommodations are included.  
Are you ready to embody the richness that is you?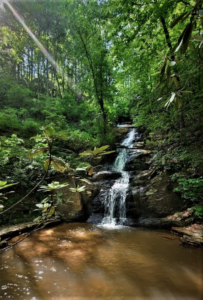 Leaders
Annette Maria
Annette Maria is a Somatic Soul Coach, Intuitive Sound + Energy Healer, Author & Founder of Sanctuary Publishing. She supports burned out visionaries to return back to themselves with a holistic approach infusing the mind, body and soul. Annette believes…
Learn more about Annette Maria
Megan Barnhard
Megan Barnhard is an intuitive writing coach and Story Magician. She helps transformational coaches write conscious business content and the book that's in their soul. Her superpowers are being an empathic channel, connecting the dots so her clients see their…
Learn more about Megan Barnhard