Fall Into Yoga
With Alison Gurevich and Carolyn Petramale
October 28 - 30, 2022
Fall into Yoga – The Oya Fall Retreat: October 28 -30th
Join Alison Gurevich and Carolyn Petramale with Oya Yoga for a retreat away from the hustle and into the beauty of fall.  This unique retreat includes daily yoga practices in a range of styles including a double mat mandala practice in the Universal yoga style and a Sound Healing With Michael Burke.
Universal Yoga is an authentic eastern system of yoga created by Yoga Master Andrey Lappa.  Universal Yoga is based on the mayakoshas (sheaths) to create balance on all the layers of the self; physical, energetic, emotional, psychological, intellectual, bliss and karmic layers, using the three main threads of yoga practice; body, breath and mind.  A typical class will combine strength, stretch and balance asanas, vinyasa, breathing techniques and turns on the mat, creatively integrated using all major ranges of motion for arms, legs and spine.  The primary goal of the practice is not only to work the physical body, but to target one's concentration, balance energy and the nervous system, develop focus and attention, to turn awareness inward, creating a serenely stable inner-atmosphere conducive for personal development.
All are welcome and yoga offerings will be made accessible for all yoga levels.  Please note that parts of the double mat mandala practice (offered only on Saturday morning) may best be appreciated by those with an intermediate yoga practice.  This practice does include meditation, breathwork, slow deep stretching, and more advanced physical opportunities integrated into one practice.
Oya is a yoga studio, wellness boutique, art gallery, and holistic center that has been serving the Alpharetta, Georgia and North Atlanta community since we opened in 2018. We aim to help students transform, change, and create.  Alison and Carolyn guide a wide range of classes each week at Oya, and Michael Burke leads Oya's monthly Sound and Wine events.
What's included?
Two peaceful nights at the Elohee center
All meals, beverages (vegetarian and vegan options)
Daily breathwork, meditation, and yoga practices in a range of styles.
One double mat Mandala practice in the Universal Style of Yoga.
Additional guest information is here.
Have additional questions? Contact Alison at alison@breathtomotion.com.
Schedule:
Fall into Yoga – The Oya Fall Retreat
Friday, October 28th
3:00-4:00pm
Check in
5:00-6:00pm
Meet & Greet, Grounding/Intention Setting with Alison and Carolyn
6:00-7:00pm
Dinner
7:30-8:45pm
Restorative and Yoga Nidra with Alison
Saturday, October 29th
8:00-9:00am
Breakfast
9:00-12:00pm
Universal Mandala Practice with Carolyn (3 hours)
12:00-1:00pm
Lunch
1:00-6:00pm
Free time for Hiking, Resting, Massage or Reiki
6:00-7:00pm
Dinner
7:15-8:15pm
Sound Healing with Alex Ballew
8:45pm
Bon Fire
Sunday, October 30
8:00-9:00am
Breakfast
9:00-10:30am
Free time for Hiking, Resting, Massage or Reiki
10:30-11:30am
Vinyasa and Yin with Alison
11:30-12:00pm
Meditation and Closing with Alison and Carolyn
12:00-1:00pm
Lunch and Farewell
Leaders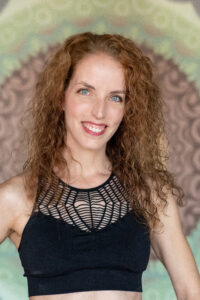 Alison Gurevich
Alison Gurevich is a E-200 RYT, 500 RYT yoga teacher and YACEP based in Atlanta, Georgia. She has received additional specialized training in teaching meditation, yoga for seniors, chair yoga, aerial yoga, Bhakti yoga, and yoga for osteoporosis (the Fishman…
Learn more about Alison Gurevich
Carolyn Petramale
Movement and fitness have always been a part of Carolyn's DNA. She began teaching Group Fitness in New York (can't take the New York out of the girl) in 1988. In 1990 she moved to Atlanta and continued teaching Group…
Learn more about Carolyn Petramale