Tending, A 5Rhythms Waves Workshop
With Julie Stuart
August 12 - 14, 2022
What if we learned to care for the tenderest parts of ourselves, together?
A 5Rhythms waves and Non-linear Movement Method workshop
This wild unraveling of so many systems collapsing at once has shown us that we need each other in ways that we may not yet fully understand or know how to do. But we have these bodies that know how to move and a willingness to be real with each other about how right now we need exquisite nurturing of ourselves, each other, and the earth. A gentleness that says I'm here with you, a tenderness that replies let's do this together, which is an unlearning of everything that ever told us we had to do it alone. If we are to find ways to ease the pain and distress of living in late state capitalism, surely the medicine will be in our capacity to be with one another deeply, tending to what's needed, so that our individual burdens are lessened knowing they are seen, held and carried in community.
"rarely, if ever, are any of us healed in isolation.
healing is an act of communion."
~~bell hooks
We'll be dancing at the top of a mountain in the southern Appalachians, the world's oldest mountains, on ancestral Cherokee land in the wake of a full moon and weaving our explorations of togetherness with the land and the sentient beings who live there.
5Rhythms is a guided dance practice that powerfully catalyzes our body's wild intelligence in a freely expressed movement meditation.
The Non-linear Movement Method is a somatic practice that identifies and unwinds patterns of contraction, and through gentle movements relieves tension and soothes the nervous system.
This workshop is for people who are new to 5Rhythms or who have danced the practice for decades. We welcome people of all cultures, colors, creeds, all genders and sexualities, all sizes, abilities, and life stages. You don't need to feel strong or energetic to join us. If you're breathing, you've got all you need. Chairs are available for seated dance.
Waves – A Gabrielle Roth 5Rhythms® Waves workshop is the foundation of the entire body of 5Rhythms work in which we expand our class work with a deepened physical expression and knowledge of the essential 5Rhythms and their polarities.
Check-in begins at 3 pm Friday, dance starts at 7:30 pm. Check-out and retreat ending is at 1 pm on Sunday.
We are offering sliding-scale tuition for this retreat. For those who can pay the full price please do so. That allows us to offer a discount to those who are less resourced as a form of community care. If you're interested in contributing to a scholarship fund so that we can offer this workshop to folks who can't self-fund the fee, please get in touch with Julie about how to do that.
Pay-what-you-can discounts are available with the following codes:
Tending50 – $50 off
Tending75 – $75 off
Tending100 – $100 off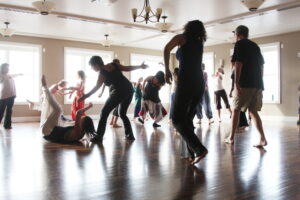 Leader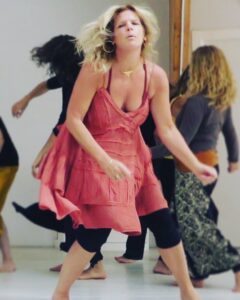 Julie Stuart
Julie has over two decades of experience as a consultant/facilitator of emergence who works with organizations and individuals to navigate complex change, imagine new ways of being and create strategies forward from collective wisdom using deep dialogue, large-scale visual mapping…
Learn more about Julie Stuart