Energy Medicine for Christians
With Kandy Duke
March 31 - April 2, 2023
REPAIR body & soul  … RETHINK self-care … REJOICE in God's love
What needs repair in your life these days? There is a good chance this weekend may lead you on the right path to the perfect tools for inner healing – and for the strength and courage to take them up.
This program will help you rethink self-care and give you tools that are simple but effective in achieving spiritual, physical and emotional health. You will learn to move stuck or congested energy in your body that causes physical and emotional pain.
The exercises included in this weekend retreat will help you focus better and become more joyful. The difference between this work and regular Energy Medicine techniques is that we infuse scripture into every aspect of the exercises thereby, rejoicing in God's love throughout the movements.
John 15:7 reminds us to let His words REMAIN in us. If we never get the WORDS in us, they can't remain. So, we have designed this program to help you learn scripture easily, which will ultimately bring His message into your body where it will REMAIN. This work will also help you to be a "doer of the word," not just a "hearer of the word." (James 1:22)
If you want to learn an easy, yet powerful self-care technique AND get the Holy Word of God ALIVE and ACTIVE in you, then join us for this retreat. Listen to what your body and soul is asking for.
PRICE INCLUDES manual with pictures and scriptures that reinforce the Energy Medicine exercise instructions.
Online participants of this work described it as "helpful, expansive, and empowering."
One woman wrote "I have been giving thanks to God for you all week. When I study your material I am overwhelmed with the obedience and love required to produce such thorough and prolific work! Thank you, thank you for sharing with us these amazing treasures due to your openness to God's Voice, Your Love for Him, yourself and His people! I have been very blessed by your work and look forward to receiving more."
"What a fantastic weekend with Kandy Duke at the Energy Medicine for Christians retreat at Elohee in the north Georgia mountains! As a group we learned to infuse scripture into every aspect of the exercises. We rejoiced as a group and as individuals in God's love through the movements we practiced. We explored the Scriptures and different energies. We traced our meridians, learned about our biofields, learned calming techniques – all the while linking it to Scripture. We did an early morning Energy Medicine Yoga to incorporate what we had learned so we could practice it at home. And let's not forget Elohee Retreat. The facilities were super. The food was really good. The views were gorgeous." –  Jan Williams
"This retreat exceeded all expectations. Kandy's passion and lessons were excellent. Be ready to learn and have a lot of "aha" moments. I left feeling educated, rejuvenated, and excited to learn more. This retreat also attracted bright vibrant women, and we bonded quickly over the delicious meals, the exercises, and during free time. If you are searching for an outstanding weekend retreat, you have found it!" – Sarah Williams, Owner, Lucy Belle Farm Event Venue, Pembroke, GA
Schedule (Times and Schedule May Vary Slightly)
Friday, March 31
3 pm – Arrival, Check-in
3:45 pm – Defining Energy Medicine, Energy Assessments, Energy Circle
Understanding the Science of Energy Medicine
Getting into God's Presence
Connecting with God
6 to 7 pm – Dinner
7:30 pm – Balancing the Energy Centers

Saturday, April 1
6:15 am – Sunrise Energy Medicine (outside, weather permitting)
Meridian Trace
Wakeup Exercises
8 to 9 am – Breakfast
9:15 am – Forest Energy Walk
10:30 am – Biofield and the Emotions
12 to 1 pm – Lunch
1-4:15 pm – Free Time
4:30 pm – Emotional Balancing
6 to 7 pm – Dinner
7:30 pm – Clearing Congested Energy
Sunday, April 2
6:30 am – Energy Medicine Yoga
8 to 9 am – Breakfast
9:30 am – Calm and Release
Neurovascular Holds with Essential Oils
Unscrambling
Closing
12 to 1 pm – Lunch
1 pm – Departure
For more information, contact Kandy Duke at kandy.duke@gmail.com.
Check out Elohee's Guest Information FAQs here.
Leader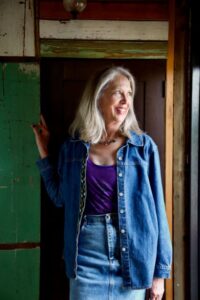 Kandy Duke
Kandy began her exploration with "energy medicine" 20 years ago when she took a very skeptical look at a complementary healing modality called Healing Touch. After receiving a "Healing Touch" session she felt like she had physically lost 10 pounds.…
Learn more about Kandy Duke