Level Up, 2023!
With Amanda McCall, LPC
January 27 - 29, 2023
Want to learn proven strategies to give your New Year's resolutions a huge boost this year?  Join Amanda McCall, Licensed Psychotherapist, for this inspiring and relaxing retreat which combines mindfulness instruction with powerful strategies for motivation and focus.
Many people assume that they will not be able to change their long held habits such as procrastination and/or difficulty sticking to a task or goal, but research has shown that these habits can be changed at any age.  Great news, right!?! This is because of neuroplasticity, the brain's ability to change over time which is important when trying to improve Executive Functioning  (a range of cognitive skills that help us regulate our behavior and accomplish goals). This retreat will focus on improving Executive Functioning as well as enhancing motivation all year long.
Level Up, 2023 will be both informative and restorative. You will be learning straightforward and easy-to-implement steps, supplemented with plenty of discussions and examples of real-life application. Expect a healthy dose of humor as well as reminders to be compassionate with yourself. In addition, mindfulness techniques will be threaded throughout the program, because a calm mind helps with both learning as well as implementing your new skills upon returning to daily life.
Learning Objectives:
-Learn how thought processes either help or hinder goals
-Learn how to shift thoughts in a manner that supports success
-Learn how to more easily start and complete daily tasks of all types
-Learn mindfulness techniques for focus and more ease in your life, therefore helping you to stick to tasks and goals
-Get tips to help with planning and organization of tasks/ goals.
-Learn how to use self-compassion to further improve outcomes (this really works!)
***Every activity is completely optional. All participants should feel free to make their retreat experience what they would like***
Included in the retreat:
• Multiple learning sessions each day with Amanda, including guided relaxation/ visualization exercises.
• Optional yoga class on Saturday.
• Option to schedule a 15-minute individual consult with Amanda
• Healthy, chef-prepared meals for breakfast, lunch, and dinner.
• Optional Massage/ Spa services *not included in program fee*.
• Guided nature walk through Elohee's diverse ecosystems featuring a 100ft mountainside waterfall.
• Lodging in Elohee's cottages- click here to view- https://www.elohee.org/facilities/cabins/.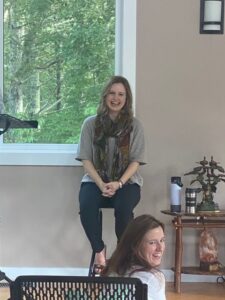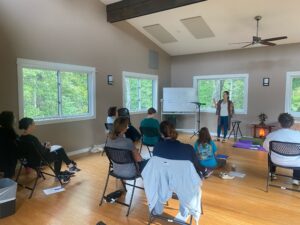 Schedule
Friday
3:00-4:00 pm- Check in with Elohee staff
5:00-6:00 pm- Welcome/Shifting Habits- What to Know First (Location- Forest Studio)
6:00-7:00 pm- Dinner
7:00-8:30 pm- Getting Clear around Intentions/ Self Compassion and Awareness for where you are starting
Saturday
8:00-9:00 am- Breakfast
9:00-9:30 am- Breathing Techniques for Improved Focus- including 5-minute Breathing Meditation.
9:30-10:30 am- Improving Mental/Emotional Patterns for Success/ Task Initiation (Getting started on tasks/goals)
10:30 am- 15-minute break
10:45-Noon- Yoga for Calm and Focus
12:00-1:00 pm- Lunch
12:30-3:00 pm- Break/ Time for optional massage and spa appointments, naps, etc.
3:00-4:30 pm- Follow Through- How to get past common blocks such as distraction and lack of motivation. Sustaining focus on a goal/ task.
5:00-6:00 pm- Guided nature tour/hike
6:00-7:00 pm- Dinner
7:00-8:00 pm- Setting yourself up for Success and Discussion Time.
Sunday
8:00-9:00 am- Breakfast
9:00-9:15 am- Meditation for Focus.
9:15-11:00 am- Putting it all Together and more tips. Creative Visualization to improve outcomes. *Includes 15-minute break*
12:00-1:00 pm- Lunch and Goodbyes
*Schedule is subject to slight changes.
For more information, contact Amanda McCall at Amanda@Amanda-McCall.com.
Check out our Guest Information FAQs here: https://elohee.org/retreats/guest-information/.
Leader
Amanda McCall, LPC
Amanda is a licensed psychotherapist and owner of a private practice in Athens, GA where she specializes in stress, anxiety, relationships, focus, and productivity. She has been teaching mindfulness techniques for over 15 years and enjoys incorporating these skills with…
Learn more about Amanda McCall, LPC