Wisdom Rising
With Kelley Colihan Robertson, E-RYT, NBC-HWC
June 1 - 4, 2023
A three-night, four-day (Thursday- Sunday) sacred yoga retreat. Prepare to restore and remember your true Self and let go of limiting beliefs. We will practice yoga, meditation and sessions that include journaling to help you clear the way for divine energies to emerge.
There will be ample time to rest, enjoy nourishing meals, drink in mountain air and be in nature. Bring a soul friend or make new ones while you are here.
This retreat is designed for women who are ready to look deeply within in order to shine brighter and learn tools to sustain joy and connect to your creativity. All levels of yoga are welcome, as we will focus on practices created to lovingly draw us deeper into our hearts.
Magic happens when we gather to share our stories. We will have an opening and closing circle and a fire ceremony on Saturday evening.
Optional spa experiences or hiking excursions are available.
Testimonials
"Set in a peaceful, majestic location, the Goddess Rising retreat provided the perfect atmosphere for nurturing balance, reflection and spirituality. There was a great lineup of activities – from yoga to sound therapy to journaling. Kelley did a stellar job bringing her own loving nature to fostering a healing path for those that attended. I can't wait to go again!"
— Retreat 2021 Attendee
"!!Loved this event! Kelley was fabulous and welcoming. She is extremely knowledgeable and very helpful with insuring the pose was correct in a very nice way. I would recommend this event for all levels! The accommodations and food were great and delicious! Go to the waterfall!!"
— Retreat 2021 Attendee
"The retreat with Kelley was beyond my expectations. It had everything: yoga, movement, communing with nature, warm nurturing connections with new friends and a magical spot to disconnect from the works."
— Retreat 2021 Attendee
"Great retreat! Loved Kelley and the yoga, very in tune with the group. Enjoyed the options for reiki and massages. The Owners and staff were absolutely wonderful."
DATE & TIME DETAILS: Check-in begins on Thursday June 1 at 3 p.m. and check out will be on Sunday at 1 p.m. Please plan to stay the entire time.
If you have any questions or would like additional information about this retreat, please contact Kelley at  kelley@avolvewellness.com  or visit  www.avolvewellness.com
Check out our Guest Information FAQs here.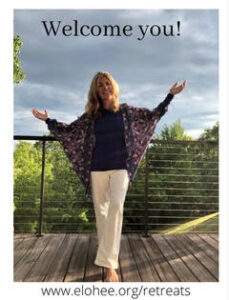 Leader
Kelley Colihan Robertson, E-RYT, NBC-HWC
Yoga, meditation, journaling, singing, storytelling and being in nature are just some of the ways to be able to drink while you pour. You can't give from an empty cup. If you are a parent, teacher, therapist or artist you…
Learn more about Kelley Colihan Robertson, E-RYT, NBC-HWC