Wisdom Rising
With Kelley Colihan Robertson, E-RYT, NBC-HWC
June 1 - 4, 2023
As we emerge into a new world, what gifts are you ready to bring forth? This three-night, Thursday through Sunday retreat is geared toward women who are ready to step more fully & vibrantly into life to access your wisdom.
We will have daily yoga, walks in nature, nourishing meals, the magic of the mountain, Gateless Writing, deep rest and gathering around the fire.
Optional body/energy work is available.
This retreat will allow you to drop the tension and move beyond fear into more ease and freedom.
We invite light beams like you to step into your power & wisdom!
Here is what former participants say (last year our retreat was called Goddess Rising):
Testimonials
"I was absolutely amazed by Kelley at the Goddess Rising retreat. It was such an amazing experience all the way around. I will definitely be returning next year!" 
"I'm very grateful I went to this retreat! Kelley is such a wonderful soul and made everyone feel welcome! I also loved the Yoga exercises and the people I met!"
"It was my first time in this type of experience but Kelley's energy made me feel comfortable, secure, and loved. If you are looking for the time and place to quiet your mind and heal in nature. Surrounded by beautiful, kind, and like-minded souls. This is the retreat for you."
"This was my first yoga retreat and Kelley did a wonderful job creating a loving space for us. Her teaching is authentic, thoughtful, and fun. Elohee is a beautiful place to retreat and I really enjoyed having free time to sit outdoors and soak up the natural beauty and peace. The food was generous, delicious, and nourishing."
"I loved the beautiful setting and the loving energy of Kelley. The retreat had a great balance of group activities and time to relax, restore, and connect with nature. A peak experience!!!"    Jackie G.
"The words that come to mind when I think about Kelley are SAFE and ACCEPTING. She us an excellent yoga teacher, and makes sure everyone feels comfortable, creating an atmosphere for all yoga students, from beginners to experts, suggesting modifications to suit all levels, all bodies and all abilities. Kelley brought our diverse group together, spending time individually and with small groups. She was well-prepared and provided not only expert yoga instruction, but an atmosphere where everyone felt comfortable and cherished. The setting is beautiful, and there was time to be in the group, be alone, hike on the well-kept trails. The accommodations were perfect – clean, comfortable rooms with everything you needed but nothing extraneous. The staff are friendly, non-obtrusive, but happy to help with any questions or concerns. The food was delicious and plentiful, providing a nice variety for every dietary needs. Logistics (parking, shuttles, help with luggage, directions, instructions) were well-planned and made the weekend easy. I would recommend this retreat to anyone interested in yoga, and finding balance, flexibility and strength, both body and soul. I hope to return next year!" 
"A wonderful retreat to clear the mind and get in touch with your body and spiritual self."
"The retreat with Kelly was amazing! The location was magical and I loved the combination of yoga, breathwork, meditation and a surprise sound bath. It was full of connection to the earth and the other beautiful souls there, as well as quiet alone time and self-care. Can't wait until the next one!"
"The Goddess Rising Retreat was wonderful, the location just magical, it was exactly what i needed and at the right time. Kelley had a wonderfully intuitive way of guiding us through the retreat. I left feeling calm, centered, grounded and my heart full!"
*Safe for beginning yoga students. Instructor is trauma-informed, not suitable for those in active addiction
DATE & TIME DETAILS: Check-in begins on Thursday June 1 at 3 p.m. and check-out will be on Sunday at 1 p.m. Please plan to stay the entire time.
If you have any questions or would like additional information about this retreat, please contact Kelley at  kelley@avolvewellness.com  or visit  www.avolvewellness.com
Check out our Guest Information FAQs here.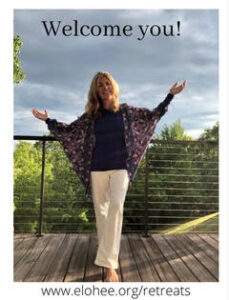 Leader
Kelley Colihan Robertson, E-RYT, NBC-HWC
Yoga, meditation, journaling, singing, storytelling and being in nature are just some of the ways to be able to drink while you pour. You can't give from an empty cup. If you are a parent, teacher, therapist or artist you…
Learn more about Kelley Colihan Robertson, E-RYT, NBC-HWC