Flow and Let it Grow
With Alison Gurevich
March 23 - 26, 2023
Spring is the time to pull weeds.
The things we want to grow cannot thrive in a space where weeds are using up all the water, crowding out the sun, and filling our calendars.
It's no coincidence we "spring clean".
It's time to make space in our lives for ourselves. It's time to embrace the seeds of your future and give them space for the deep roots that will become the mighty trees of someday soon.
Spring is the time to plant seeds.
Those plans you have, the goals, the wishes you make when blowing on a dandelion…what can you plant now to move you one step closer?  Spring is the season when it all feels possible, as the world opens up one leaf at a time. Together we'll move into that space of renewal with support to grow the tiniest of seeds into what you need next.
This four day, three night women's retreat the north Georgia mountains is an all-inclusive weekend reminder that often the best thing we can do for others it to take care of ourselves. A space to be fully taken care of, for a moment to let go of all the roles you fill for others and return to self. An opportunity to dig into the soil of your own existence and nourish yourself. Set in a private lodge with views of a 100 foot waterfall, this retreat is your invitation to a blend of yoga and camaraderie, of afternoon naps and dancing in the moonlight, of finding your flow and letting things grow. A glorious weekend curated to use the transformative power of the change of seasons to pull your weeds and plant your seeds.
What's included?
Four days and three blissfully peaceful nights at the Thanksgiving House at Elohee.
All meals, beverages and snacks.
Twice daily breathwork, meditation, and yoga practices in a range of styles to suit every body.
A curated collection of workshops, thought sessions, rituals and gatherings designed to allow space to find exactly what you need, right now.
Investment:
$1,080 per person for one space in a double occupancy room (Sun Trail, Woodland, Heart Room*)
$1280 for single occupancy in the Forest Room, Patio Room, Sun Trail, or Woodland
$1480 for the En Suite (single occupancy w/ private bath)
This retreat is offered as a part of my Signature retreat offering. Attendance at this retreat is limited to 10 attendees to ensure the connection, support, community, and space for transformation. 
To reserve your space or if you have any questions, please e-mail Alison at alison@breathtomotion.com. Rooms are booked in the order of e-mails received. Current availability is noted here and I do maintain a waitlist.
A 50% deposit is required to hold your space and may be paid by Check, Venmo or Credit Card.  Full payment is due 30 days prior to the event.  The shared rooms are perfect if you are coming with a friend, but may be selected by solo attendees, please note you will be paired with another attendee. All deposits and payments become non-refundable 30 days prior to the retreat unless I can fill the space from the waitlist.
* Rooms with multiple beds may be booked by a single person at $1280, as a double for $1080, or in the event you are coming with 2 friends and wish to take all three spaces in the Heart Room, the rate for that room will $880 per person. There will be no alcohol, smoking, vaping or other similar activities in the house or anywhere on the Elohee grounds.
Retreat Schedule
We begin Thursday at 4 pm, you are welcome to arrive any time after 2 pm.
Dinners are at 6 pm, Lunch is at 12 pm, and Breakfast is at 8 am.
We will practice a more active format of yoga in the morning and a more restful practice in the late afternoon or evening. All practices are all-levels and for all bodies.
Afternoons are left open for spa treatments, rest, connecting with nature and yourself.
Mornings and Evenings include workshops, talks, discussions, and spaces for connection.
We end Sunday after lunch.
For more information, contact Alison Gurevich at alison@breathtomotion.com.
Check out our Guest Information FAQs here.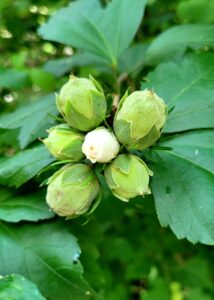 Leader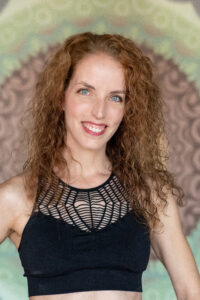 Alison Gurevich
Alison Gurevich is a E-200 RYT, 500 RYT yoga teacher and YACEP based in Atlanta, Georgia. She has received additional specialized training in teaching meditation, yoga for seniors, chair yoga, aerial yoga, Bhakti yoga, and yoga for osteoporosis (the Fishman…
Learn more about Alison Gurevich