Sounds of Summer
With Douglas Johnson and Alex Ballew
July 14 - 16, 2023
Welcome to the Sounds of Summer. On this unforgettable retreat, you will be enveloped in the sound of the season and the sounds of healing. Yogi Douglas Johnson of Mahapatha Yoga and Alex Ballew of Secret River Sounds will guide you through a weekend of Kirtan (chanting), Sound Baths, Yin Yoga, and Yoga Nidra (sleep meditation) against the natural symphony of summer sounds like cicadas, singing birds, crickets, and bullfrogs. This retreat will be a time to slow down and immerse yourself in these healing sounds for a deeper connection to yourself and the unity of all.
Why Yoga? Have you ever felt that more was possible in life? Like you had untapped potential? Potential for more joy, peace, love, and accomplishments? Yoga is the key that unlocks the door to our fullest potential and expression as human beings. In addition, study after study shows just how beneficial different Yoga practices are for mental and physical health. Yoga can mean many things, but its original meaning is 'union' and refers to losing our illusory sense of separation or self. Most of us experience ourselves as separate beings that must compete with other beings for love, resources, and money to achieve happiness. According to Yoga, this sense of being an individual self is the root cause of all suffering and is caused by what Yoga calls Avidya (illusion). Yoga helps us see through the illusion of separation to experience the truth of unity and wholeness that is our birthright.
YIN YOGA: was first popularized by Douglas's teacher Paul Grilley in the 2000s. It is a style of practice where you hold floor postures in a relaxed manner for extended periods. This practice is highly therapeutic and can result in profound healing and the spontaneous release of tensions in the body and mind. On this retreat, we will do a Yin practice daily.
KIRTAN: Kirtan is a kind of yoga practice where ancient sacred words known as Mantras are set to music and sung call-and-response, over and over, until one loses their sense of separate self. One can sit, stand, dance, sway, and spin, but everybody must sing! Kirtan is not a performance but a practice, so you must do your part and participate. The experience can be meditative, ecstatic, or even transcendent.
YOGA NIDRA: Yoga Nidra means 'sleep meditation.' Yoga Nidra is an easy way for even the most inexperienced meditator to access deep levels of stillness, silence, and relaxation that are usually only available to more experienced practitioners. It can be used for healing, stress relief, and realizing material and spiritual goals. While Yoga Nidra is a very beginner-friendly practice, it is also profoundly deep, allowing more experienced practitioners access to the most subtle layers of consciousness and realization that Yoga can provide.
SOUND BATH: Sound therapy is a modality that uses vibrations to soothe the nervous system and open access to the parasympathetic nervous system state. Vibrations from instruments wash over the listener and provide a subtle cellular massage. The Mandala Hall will be filled with deep tones from gongs, gentle melodies from the crystal harp, vibrations from drums, singing bowls, rain sticks, didgeridoos, shakers, and more. Drift into the stillness below the mind for an opportunity to let go, rejuvenate, feel grounded and become deeply relaxed. Participants have an opportunity for emotional revelation, a chance to connect with themselves and ultimately tap into their innate ability for self-healing.
Schedule
Friday, 7/14
| | |
| --- | --- |
| 1:00pm – 2:00pm | Check-In |
| 2:00pm – 3:00pm | Settle in and discover retreat center |
| 3:30pm – 4:00pm | Kirtan and introductions |
| 4:00pm – 6:00pm | Yin Yoga |
| 6:00pm – 7:00pm | Dinner |
| 7:30pm – 9:00pm | Check In and Kirtan |
Saturday, 7/15
| | |
| --- | --- |
| 8:00am – 9:00am | Breakfast (eating light recommended) |
| 9:00am – Noon | Yin Yoga and Yoga Nidra with Sound Bath |
| Noon – 1:00pm | Lunch |
| 1:00pm – 5:00pm | Free time to relax, get massage/reiki, hike and explore |
| 5:00pm – 6:00pm | Check in and Kirtan |
| 6:00pm – 7:00pm | Dinner |
| 7:30pm – 8:45pm | Stand-alone Deep Rest Sound Bath |
| 8:45pm – 10:15pm | Time around the fire |
Sunday, 7/16
| | |
| --- | --- |
| 8:00am – 9:00am | Breakfast |
| 9:00am – 10:00am | Check in and Kirtan |
| 10:00am – 11:00am | Infant Series with Sounds |
| 11:00am – Noon | Group Photo and Closing Kirtan |
| Noon – 1:00pm | Lunch |
| 1:00pm | Check-out |
For more information, contact Alex Ballew at Alex@secretriversounds.com or (404) 573-3445. Visit 
Check out Elohee's Guest Information FAQs here.
Leaders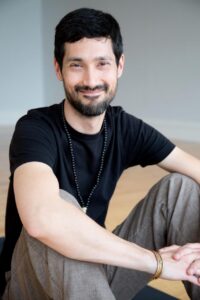 Douglas Johnson
With well over 1000 hours of training under his belt and a quarter of a century of teaching experience, Douglas Johnson – E-RYT 500, YACEP is one of the southeast's most experienced and well-trained yoga teachers. Founder of the Mahāpatha…
Learn more about Douglas Johnson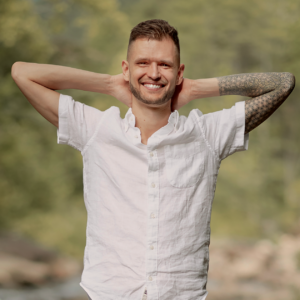 Alex Ballew
Alex Ballew is on a mission to use vibrational sound therapy to help people find connection with themselves and others. He wants to bring joy, authenticity, unity and hope into everything he does. Secret River Sounds is spreading healing vibrations…
Learn more about Alex Ballew