*Sold Out* Deepen Your Practice – Yoga and Meditation Retreat
With Christina Rodriguez
March 8 - 10, 2024
Discover the full potential of your yoga practice in an intimate and picturesque setting at Elohee. This retreat offers an opportunity to move beyond the group yoga class and explore the system of yoga as a set of holistic practices. Whether you're a seasoned practitioner looking to elevate your practice or a curious beginner eager to explore the full spectrum of yoga, you will dive deep and uncover the transformative power of meditation, pranayama (breath control), and asana (physical postures). Don't miss this chance to recalibrate and take your practice to the next level!
Together, we will:
– Balance and manage our energy levels through the practice of asana.
– Delve into the tenets of mindfulness meditation, including focused attention, spacious awareness, and lovingkindness, allowing us to cultivate greater self-awareness and inner peace.
– Discover the power of the breath through the art of pranayama for increased vitality, balance, and relaxation.
– Learn how to create and maintain a lifelong home practice that can adapt to the ebbs and flows of life.
– Explore the power of rest and stillness, learning to cultivate deep relaxation and rejuvenation.
There will be ample time for building connections, nourishing our bodies with wholesome, fresh food, and enjoying the beauty of nature through hiking and relaxation. The practices are thoughtfully designed with a trauma-informed approach, ensuring inclusivity and accessibility for individuals with different levels of mobility. While some prior yoga experience is recommended, all practices are designed to accommodate individuals with varying levels of experience. Join me for an enriching and rejuvenating experience, where you'll have the opportunity to deepen your practice, connect with others, and enjoy the beauty of nature. As part of this retreat, you'll enjoy two nights of comfortable accommodations in the charming Thanksgiving House. All meals are included and Elohee does cater to dietary preferences (the food is amazing!). For an additional fee payable directly to Elohee, you can schedule on-site massages and/or Reiki. You are free to attend any or all scheduled classes based on your individual preferences and energy levels.
CEUs are available to yoga teachers for the workshops provided during this retreat.
Schedule:
Friday, March 8th
2-4pm Arrival and Check-in
4-5pm Welcome and Yoga Flow for Grounding
5-5:45pm Meditation, focused attention
6-7pm Dinner
7:15-8pm Community Circle and intention setting
8-9:30pm Yin Yoga and Yoga Nidra
Saturday, March 9th
7-7:45am Yoga Flow for Awakening
8-9am Breakfast
9-9:45am Morning Meditation, gratitude
10-11:45am Pranayama (workshop) and Walking Mediation
12-1pm Lunch
1-4pm Free time for hiking, journaling, massage, Reiki, reading, etc.
4-5pm Yoga Flow for Equanimity
5-6pm Mediation, spacious awareness
6-7pm Dinner
7:15-8pm Community Circle
8-9:30pm Restorative Yoga
Sunday, March 10th
7-7:45am Yoga Flow for Empowerment
8-9am Breakfast
9-9:45am Morning Meditation, lovingkindness
10-11:45am Building a Sustainable Home Practice (workshop)
12-1pm Lunch
1-2pm Group Picture and Check-Out
*schedule may change
For more information and to be added to the waitlist, contact Christina Rodriguez at ccrodriguez102@gmail.com.
Check out Elohee's Guest Information FAQs here.
Leader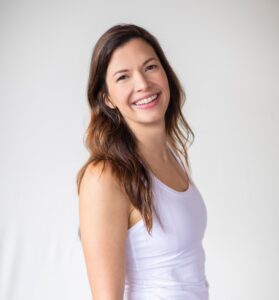 Christina Rodriguez
Christina's approach to teaching yoga centers around serving others, and she is committed to providing a welcoming environment in her classes for ALL individuals, regardless of their level of experience. As a 500hr RYT, 200hr E-RYT, certified Yoga for All…
Learn more about Christina Rodriguez