Raise Your Frequency
With Meric Mizrakli with Akasha Yoga & Salt Studio
September 2 - 4, 2023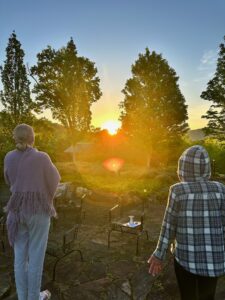 Join us for a beautiful weekend at Elohee! This is our 3rd retreat as Akasha Yoga. We always focus on the alignment of our body & soul & mind. This time we are adding more Frequency Healing to our journey. Please check our amazing schedule and details.
Schedule
Saturday 
3:00 pm Check In & Settle Down
3:00-5:00 pm Discover Retreat Center & Hiking
5:00 pm Welcoming Circle & Meeting at the Pond
6:00 pm Dinner
7:20 pm Breathwork & Intentions & Cacao Ceremony
10:30 pm Quiet Time
Sunday
7:00 am Sungazing & Mind-setting Meditation
8:00 am Breakfast
9:15 am Morning Yoga
10:15 am Tea Break
10:45 am Sound Journey & Information about Sound Therapy by Michael Burke
12:00 pm Lunch
1:00 pm Essential Oils' Frequencies Workshop
1:40 pm Neurohymnastics & Frequency Healing with Rife-Tesla Device by Mary Frances
2:40 pm Juicing Detox Preparation Workshop by Crystal
3:30-6:00pm Free Time; Optional Massage & Intuitive Card Reading & Hiking
6:00 pm Dinner
7:15 pm Fire Pit & Chakra Alignment Meditation
8:30 pm Restorative Yoga
10:30 pm Quiet Time
Monday
8:00 am Breakfast
9:15 am Vinyasa Flow Yoga
10:40 am Sound Therapy by Shelly Gudim
11:40 am Getting Rooms Ready for Check Out
12:00 pm Lunch
12:45 pm Closing Circle
1:00 pm Driving Back
Retreat Host:
Akasha Yoga & Salt Studio
Meric Mizrakli 500h RYT + 200h Experienced Registered Yoga Instructor
We love to make the connection with our bodies, minds and breaths. We believe yoga is for every body! We engage mindfulness & chakras to our practices. We learn about mudras and mantras! You will find yourself lifted up and relaxed after our yoga sessions which are like packages for yoga & meditation & breath work!
Practitioners:
Shelly Gudim:
She loves and truly enjoys sharing her gift of sound therapy with others! Join her session at our retreat and surround yourself with peaceful tones and vibrations. Be ready to unlock your visions, this sound journey may ground you and also uplift your energy.
Mary Frances:
She is a medicine woman! Her teachings about energy, frequencies and how to align ourselves with our higher selves are so precious. We are honored to have her at our retreat and learn the knowledge of resonating with higher frequencies. She will give an introduction to Neurohymnastics which are simple techniques and exercises for brain development. During the session we will have frequency healing with The PERL M+ is a Non Contact Frequency Healing Device using Royal Raymond Rife and Nikola Tesla technologies.
Michael Burke:
He is a poet, artist, does sound massage to our cells and souls. His sound healing is not like any other, which are all unique. He loves to use different instruments & chanting & loves to share information about sound therapy.
Crystal Pinzon:
She is a dedicated soul to health and well-being. She teaches about juicing, parasite and candida detoxes.
She loves to bring spiritual side of the importance of consuming alive food! Learn more about the frequencies of foods & super drinks and start to get this habit to consuming what your body truly needs!
**Please note this registration is for room and board only.  To register for the course you must book through https://www.akashayogastudios.com/event-details/raise-your-frequency
For more information, contact Meric Mizrakli at namaste@akashayogastudios.com 
For specific Elohee guest information, visit https://elohee.org/retreats/guest-information/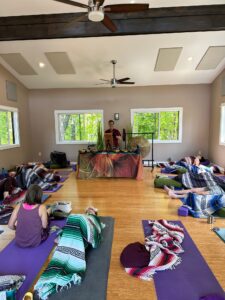 Leader