Ignite & Expand
With Sarah Krippner, LMT
October 13 - 15, 2023
Ignite & Expand Couples Retreat
A perfect weekend getaway for the couple who is looking to (Re)Ignite passion and expand your intimate connection! Whether you have been together for two months or twenty years, passion and intimacy are a key component to a strong and beautiful relationship.
As a healer and bodyworker for 25 years, I have heard countless stories from clients of how the request from their mate to "rub their shoulders" is a turn off. Why? It's usually not why you think. It's not that you don't want to or don't know how, but you feel inadequate for the task. On some level. Or that you are on emotional empty! Either way, this request from your partner being unmet causes space and hurt feelings,
not connection. And that space over time grows and gets harder to fix.
You don't have to have professional training to lovingly take care of your mate through massage or touch. Intentional touch along with loving motives can spark your passion along with strengthening your intimate bond. Which can in turn, spark more passion!
This retreat is not a massage retreat though. We will incorporate partner practices including touch, emotional calibration techniques that help you "get in the mood" to be of service to your mate, somatic practices to bring you closer, address insecurities and help you remember how to GIVE and RECEIVE from your partner.
We will connect through body and mind, connecting at your soul. You will have plenty of time to relax and practice too.
Say "Yes" to the tranquility of Thanksgiving House. For your all-inclusive weekend, we are nestled in the forest next to a 100-foot waterfall and it is the best place to get away from the city, connect with your mate and feel the powerful abundance of nature all while enjoying local, seasonal nutritious meals.
Yes. Yes. Yes.
Rates are per couple and include course fee, room, meals, taxes, and gratuities.
– Transportation costs NOT Included
– $199 NON-Refundable deposit saves your space. Full Payment required by 9/13/2023.
– If you choose NOT to pay balance via Credit Card, other payment options include Venmo or Zelle
– Payment plans are available.
Elohee is an alcohol, drug, & smoke free environment.
Weekend Itinerary
Friday 10/13
4pm Check-in
5-6 Welcome, weekend overview & Introductions
6-7 Dinner
7:30-9 Evening Session – Intentional Touch: A practice of giving and receiving.
Saturday 10/14
8-9a Breakfast
9:30-12 Morning Session – Emotional Calibration and communication
12-1 Lunch
1-3 Free Time
**Best time to make spa appointments if desired appts space is limited. Sarah will be available for Q&A, enjoy a walk outside, or just relax. There will be optional invitations for furthering your practice if you choose too.
3-5:30p Afternoon session -Massage Time!
6-7 Dinner
7:30-9 Evening session – Words of Affirmation and Acts of Love
Sunday 2/26
8-9a Breakfast
9-12 Closing Session – Integration of practices.
12-1 Lunch
1-1:30 Good byes, pictures
2pm Checkout
The Thanksgiving house does have internet access but there are no televisions.
Dress for the weather.
We will also have a fire each night weather permitting.
Questions? Let's set a time to chat so I can answer any questions or just chat to get you acquainted with my work and discuss any possible special needs.
Can't wait to meet you!
Sarah
For more information, contact Sarah Krippner at sarah@sarahkrippner.com.
Check out Elohee's Guest Information FAQs here.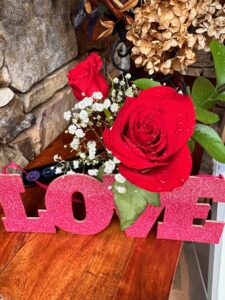 Leader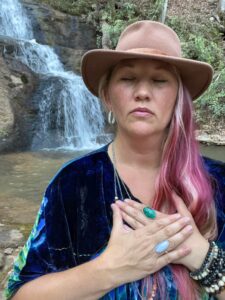 Sarah Krippner, LMT
Sarah Krippner is Massage Therapist with 25 years' experience as well as an Intuitive Healer and Energy Alchemist who supports her clients to empower them inside their intimate relationships with their intuition, intentional touch, & emotional calibration techniques. Sarah connects…
Learn more about Sarah Krippner, LMT