Nourish + Nurture Retreat for Women of Color (Rebirth)
With Nicole Ware Spencer, PsyD, MPH, RYT-500
April 12 - 14, 2024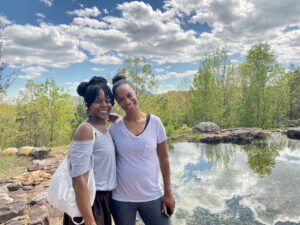 We invite you to inhale deeply, pause, and slowly exhale.
Breathe in the comforting aromas of lavender and lemongrass emanating in the air. Notice how the aromas fill the room and blend, creating a fresh and calming atmosphere. Observe how your mood lifts with each breath.
Bask in the cozy glow of the fire as it warms your skin as you sit and read your latest novel.
Wrap yourself in the soft, plush blanket and laugh on the couch with your sisters.
Taste the cooling and minty notes from your cup of peppermint tea.
Listen to the musical note bowls and feel the positive vibrations at your Sound Bath.
Welcome to Rebirth at the Nourish + Nurture Retreat in the Blue Ridge Mountains. Here is a healing space to holistically nurture mind, body, and spirit.
This all-inclusive health + wellness retreat is where we experience Rebirth through movement, sound, and nature.
We explore our breath and bodies through yoga and barre practices, tapping into our resiliency and strength. We improve our flexibility and stability through Barre + Stretch Flow, Mindfulness Flow, and Rebirth Flow, leaving us feeling centered and calm.
Soothing and echoing sounds stem from Sound Bath immersions and help ease our stress. We feel an immediate reduction in tension from the crown of our head through our toes.
The majestic waterfall and grounding earth of the Rich Cove Forest evoke positive energy, enabling us to enter our mornings and evenings easily and with tranquility.
We invite you to join us in Rebirth, experiencing increased energy, reduced anxiety, and improved sleep.
Retreat Schedule:
Friday:
2 p.m.- Arrival and Check-in
4 p.m.- Welcome activity by the indoor fire
6 p.m.- Dinner
7 p.m.- Sister Circle and Intention Setting by the indoor fire
8:30 p.m.- Mindfulness Yoga Flow
10 p.m.- Silent hour begins (journaling/reading/bedtime)
Saturday:
8 a.m.- Breakfast
10 a.m.- Barre + Stretch Flow
Noon- Lunch
1 p.m. – Free Time (massages, hiking, walking, waterfall gazing, Tea House, gift shop)
6 p.m.- Dinner
7 p.m.- Sister Circle by the outdoor fire
8 p.m.- Rebirth Yoga Flow + Sound Bath
10 p.m.- Silent hour begins (journaling/reading/bedtime)
Sunday:
8 a.m.- Breakfast
10 a.m.- Sunrise Yoga Flow
11 a.m.- Closing Circle by the indoor fire
Noon -Lunch
2 pm- Check out
For more information, contact Dr. Nicole Ware Spencer at drnicole@asiliwellness.com .
Check out Elohee's Guest Information FAQs here.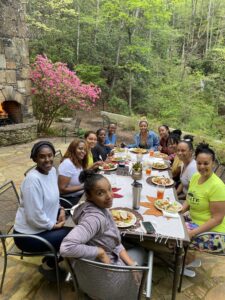 Leader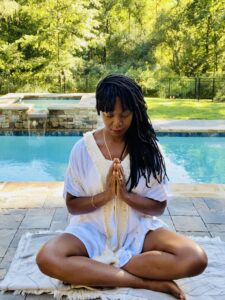 Nicole Ware Spencer, PsyD, MPH, RYT-500
Dr. Nicole Ware Spencer is a clinical psychologist, yoga therapist, and the owner of Asili Wellness. She works with Women of Color to enhance, nourish, and transform their well-being through yoga, holistic talk therapy, meditation, and mindfulness. Women who work…
Learn more about Nicole Ware Spencer, PsyD, MPH, RYT-500