Awaken the Creative Spirit: A Yoga Retreat of Gratitude and Inspiration
With Adriana Guaderrama and Lilia Sofia
September 29 - October 1, 2023
Hosted By Awakening Goddess & Harmony and Wellness
Nestled in a serene and picturesque setting of the Elohee's Thanksgiving House, this retreat offers a sanctuary for self-discovery, self-expression, and inner growth.
This retreat invites you to embark on a profound journey of exploration, tapping into the limitless wellspring of your creativity. Through a harmonious blend of yoga, meditation, creative workshops and activities; each session is carefully crafted to awaken your senses, expand your awareness, and unlock the hidden depths of your imagination.
Gratitude is at the heart of this retreat, and daily gratitude practices will be woven into the schedule. Cultivating a sense of appreciation and recognizing the abundance in your life will enhance your overall well-being and bring forth a profound shift in perspective.
Awakening the Creative Spirit is not just a yoga retreat, it is a transformative journey that invites you to step out of your comfort zone, reconnect with your inner wisdom, and unlock the boundless creativity that lies within.
This all-inclusive weekend retreat includes: 
Two nights accommodations 

All delicious, healthy meals from arrival on Friday through lunch on Sunday before your departure. All meals prepared in house.

Tea and coffee are available at any time. 

Daily yoga, meditation and pranayama activities. All classes are catered towards all levels, perfect for beginners and/or more experienced yogis. 

Guided activities/workshops to awaken your creative spirit.

A sound journey by Michael Burke. 

Nature hiking through Elohee's beautiful landscape.

Evening fire (weather permitting).

And much more. 
TENTATIVE SCHEDULE*
FRIDAY 9/29/2023
3:00 PM – 5:00 PM Arrival & Welcome
5:00 PM – 6:00 PM Opening Circle
6:00 PM – 7:00 PM Dinner
7:30 PM – 8:00 PM Igniting Your Creative Power
8:30 PM – 9:30 PM Meditation & Yoga
SATURDAY 9/30/2023
7:30 AM – 8:30 AM Slow Stretch Yoga & Pranayama
8:30 AM – 9:30 AM Breakfast
10:00 AM – 11:30 AM Nature Hike & Mandala Making
12:00 PM – 1:00 PM Lunch
1:30 PM – 2:30 PM Bringing Your Creativity to Life
2:30 PM – 4:00 PM Gentle Stretch and Sound Journey with Michael Burke
4:00 PM – 7:00 PM Free Time
7:00 PM – 8:30 PM A Guided Dinner Experience
8:30 PM – 10:00 PM Storytelling & Journaling by the fire
SUNDAY 10/1/2023
7:30 AM – 8:30 AM Morning Meditation & Slow Stretch Yoga
9:00 AM – 10:00 AM Breakfast
10:00 AM – 11:00 AM  Free Time
12:30 PM – 1:30 PM Lunch
1:30 PM – 2:00 PM Departure
*Schedule subject to change. This is your time to retreat, all activities are optional. No prior yoga experience required. Participants can also schedule on-site massages and other healing sessions (not included).
PRICING:
Our pricing includes all meals, lodging and activities:
Triple Occupancy: (1 room available)




    3 twin beds shared bath – $495 each 

Double Occupancy: (2 rooms available)




    2 twin beds shared bath – $495 each 

Single Occupancy: (2 rooms available)




    1 queen bed shared bath – $620 

Single Occupancy:  (1 room available)




    1 king bed private bath with views of the waterfall  – $730
We are staying at Elohee's Thanksgiving House, which is nestled in a Rich Cove Forest with a waterfall and walking trails for your leisure time. For more details about the accommodations and facilities, please visit: Elohee Retreat Center.
A non-refundable deposit of $250 is due at the time of registration with full payment due 2 weeks prior to the retreat start date. 
HOW TO BOOK:
Please contact us before booking to confirm the room selection at:
Email: awakeninggoddess.ag@gmail.com
Phone: 770-316-8100
Once availability and room selection is confirmed, click "REGISTER NOW" to pay your non-refundable deposit or full amount. Prices listed on the booking site are per person only. 
Click here: Booking Link
If you have any questions, please do not hesitate to contact us.
We look forward to hosting you!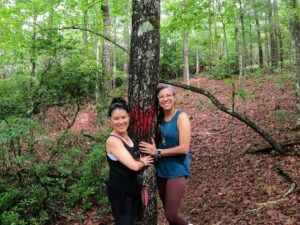 YOUR LEADERS:
About Lilia Sofia
Lilia Sofia is a graduate of RYT 200 of Blue Lotus Yoga, now LIFT Yoga + Body.  She is from Mexico City and has been living in Atlanta with her family for over 25 years. Lilia started on her Yoga journey 20 years ago. More than anything, Lilia found that the Yogic philosophy was just as important as the Yogic practice. Through time, she realized that staying present, mindful, and breathing through hardships of life was extremely important.
Her callings led her to become a Reiki Master, a certified Health and Wellness coach (from a program she took at Emory University), and a graduating Yoga instructor of Blue Lotus Yoga, now "LIFT Yoga  + Body". She has also worked to receive a certification in Bioenergetic Training and Mindfulness for Stress Reduction, also known as MBSR.
About Adriana 
Adriana is a RYT-200 certified yoga teacher. She is currently working towards her 500 hrs certification. She has enjoyed a personal practice for over 20 years, participating in many workshops and retreats all over the world. Through yoga, Adriana builds the foundation of her mental, spiritual and physical health. She is constantly learning and practicing different healing modalities to expand her knowledge. She completed courses/workshops in Ayurveda, restorative yoga, pranayama, meditation and menstruality among others. She encourages all those around her to explore life with a sense of curiosity and adaptability.
She wants students to feel peaceful, grounded and empowered. She hopes to simply be a vessel that will aid those down a path of awakening to become their most genuine and truest version of themselves.
Special Guest: Michael Burke
Michael Murphy Burke was born in New Orleans, Louisiana, on September 30, 1959.  This happens to be the same day that Rumi, the great Sufi mystic poet, was born. This is not a coincidence, as "coincidence is just God's way of staying anonymous". Michael grew up surrounded by music, art, passion, freedom of expression, and the absolute power of living on his own path.

He's been a poet all his life, with his first published material being in his high school newspaper when he was a sophomore. More recently, he contributes steadily to Oracle Magazine and is also published in Aquarius Magazine and Conscious Life Journal. In addition to writing, Michael also creates artistic visions in a variety of woods for private clients as a custom woodworker.

He can also be found doing spoken word, sound journeys and meditations throughout the Atlanta area and beyond.
For more information, contact Adriana Guaderrama & Lilia Sofia at awakeninggoddess.ag@gmail.com 
Check out Elohee's Guest Information FAQs here.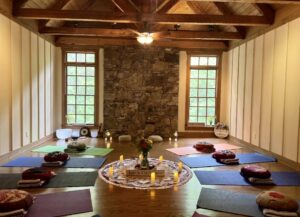 Leaders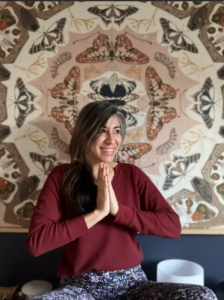 Adriana Guaderrama
Adriana is a RYT-200 certified yoga teacher. She is currently working towards her 300 hrs certification. She has enjoyed a personal practice for over 20 years, participating in many workshops and retreats all over the world. Through yoga, Adriana builds…
Learn more about Adriana Guaderrama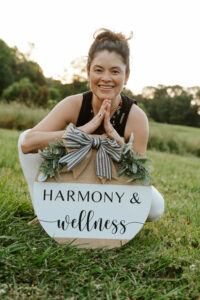 Lilia Sofia
Lilia Sofia is a graduate of RYT 200 of Blue Lotus Yoga, now LIFT Yoga + Body.  She is from Mexico City and has been living in Atlanta with her family for over 25 years. Lilia started on her Yoga…
Learn more about Lilia Sofia