Forest Therapy Guide Training Retreat
With Regan Stacey and Julie Sczerbinski
June 19 - 23, 2024
The Forest Therapy School offers a mindfulness-based, experiential learning journey on the path to becoming a forest therapy guide.
Forest therapy is a growing global wellness movement backed by 40 years of scientific research. A type of ecotherapy that focuses on the therapeutic benefits of being among the trees, it is often referred to as forest bathing. It is a mindfulness-based practice that fosters a reconnection with nature—a waking up to all of life, our wholeness, and our belonging.
Whether you are taking this training for personal growth or to share the life-changing benefits of forest therapy with others, the curriculum is thoughtfully designed to give you a deeper understanding of the emerging field of forest therapy. You'll walk away with the skills and confidence to guide participants in meaningful and restorative forest bathing experiences. The format allows for a spacious learning environment where you can find time to relax and enjoy personal reflection time in nature.
Over the course of the 4-night retreat, you will learn:
– What it means to be a forest therapy guide
– The history of forest therapy and forest bathing
– The holistic benefits of the practice along with the science to back it up
– Mindfulness in nature and embodiment practices
– How to offer guided nature meditations
– The importance of the senses in connecting to nature and ourselves
– A reliable and trusted walk sequence for guiding your clients
– How to craft nature-based invitations for client engagement
– How to personally style a forest bathing walk
– Group facilitation and effective communication skills
– The psycho-spiritual dimension of the human-nature connection
Following the in-person training, you will enter into a 6-week mentored practicum where you will participate in weekly Zoom meetups, complete assignments, guide 2 forest therapy walks, and receive 2 small group mentor calls.
The weekly meetups will be held on Tuesdays (June 25 – July 30) at 7:00pm – 8:15pm EST. The meetups are recorded, so if you have to miss one, you can watch the recording.
The Forest Therapy School's Certified Forest Therapy Guide program is accredited by the International Mindfulness and Meditation Alliance. After successfully completing the training retreat and a 6-week practicum, you'll graduate a Certified Forest Therapy Guide through The Forest Therapy School and join a community of heart-centered guides across the globe.
https://www.theforesttherapyschool.com
For more information, contact Julie at hello@theforesttherapyschool.com
Check out Elohee's Guest Information FAQs here.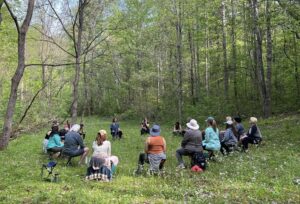 Leaders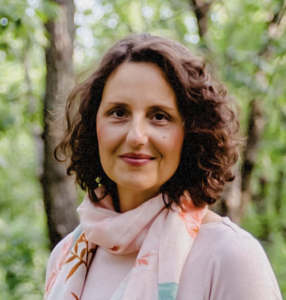 Regan Stacey
Regan Stacey is an artist and advocate for the Earth whose passion is to reconnect humans to nature for the betterment of themselves, their communities, and our planet. Through her private practice, she offers forest bathing and meditative walks in…
Learn more about Regan Stacey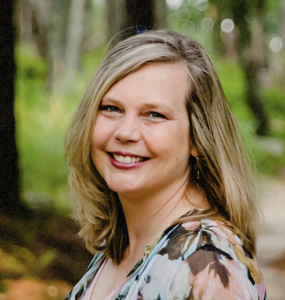 Julie Sczerbinski
Julie Sczerbinski is a forest therapy guide, retreat facilitator, and co-founder of Magic Tree Sanctuary, a 53-acre retreat space in the Blue Ridge Mountains of Virginia. Since 2016, she has been leading individuals and groups in nature-based retreats. Her approach…
Learn more about Julie Sczerbinski