Ann Pauley, Assistant Retreat Leader, LMT, and co-owner of The Posture Project, empowers people to reclaim their lives to enjoy better health and confidence in their body & being. She is an ultimate teacher wherever she goes.  Whether she is in front of a classroom or working with her massage clients, she coaches people about their body, how their mind affects their body, and how their Spirit connects and shines through all parts of themselves. She is a Life Coach, experienced Massage Therapist, Massage Therapy Instructor, Yoga instructor, and is co-owner of The Posture Project. She practices never-ending self-discovery to continue her growth as an instructor and an individual.
Over her long career, she has developed several continuing education courses and a 6-month intensive called The Life Changer Program to help people step into their power and create the life they imagined.
Annie is a featured instructor at The Heal Center, Atlanta, GA, providing Continuing Education to Massage Therapists.
Ann is also a yoga instructor at The Posture Project.  She began her practice of Hatha Yoga in 2001.  In 1998, Annie began an intensive meditation practice.  Along with her natural teaching ability and her extensive knowledge of the body, she began teaching yoga in 2006.  Her classes are invigorating and lighthearted for those wanting to feel their heart beat.
Events with Ann Pauley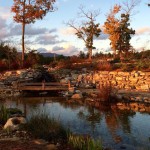 Unwind and Unplug Yoga Retreat
November 10 - 12, 2023
If you've been stressed out and can't find your peace, consider taking in the deepest breaths of fresh mountain air as you sit with your feet dangling in the water of this crystal-clear reflection pool. Your eyes soak in the…