Vena Crichlow is a certified crystal practitioner who specializes in helping women navigate their pathway to wellness through active meditation practices such as "playing in the dirt", movement, journaling and beading. 
After experiencing the sudden and tragic death of her youngest sister, Vena began nurturing houseplants and using gardening as tools to assist her in healing from anxiety and depression. She has shared her message with the world on the lessons gardening has taught her on a TEDx stage. Vena also assists others who want to cultivate indoor and outdoor garden spaces.
Vena is also the CEO and owner of Ifetayo Artwear, a line of uniquely beaded body adornments that incorporate healing crystals and other natural elements in their design. In addition to making jewelry, Vena facilitates body adornment workshops for women on the use of healing crystals. 
She is also the founder of The Grown Ass Mama Tour™, a boutique wellness retreat for women. These healing retreats allow women to relax, release and reset as they explore the world and experience a multitude of healing modalities, while being immersed in the beauty of nature. 
Events with Vena Ruby Crichlow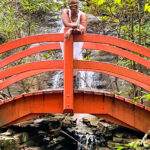 The Grown Ass Mama Tour: Fall Into Love
October 6 - 9, 2023
Welcome to The Grown Ass Mama Tour's second annual Fall Into Love retreat. This curated healing experience is focused on self-love! The entire weekend is all about taking time for yourself, reconnecting with your inner child, and learning to love…