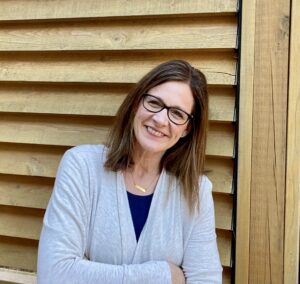 I have always loved physical activity, so I came to yoga for the physical challenge and to work through old sports injuries. I took my first yoga class in 2001, and I could tell that there was something worth pursuing, and so I went all in.
I see yoga as an opportunity to combine physical challenge, mindful attention, and spiritual direction. I believe yoga and meditation leads us to understand our power and gives us clarity, confidence, strength, and softens the hard edges. I teach to gift the same to my students.
I teach gentle, vinyasa, and power, with an emphasis on helping students find ease and flow in the movement through creative sequences and unique music selections.
I completed my 200-hour yoga teacher training at Asheville Yoga Center (AYC) in 2019, along with my 300-hour advanced studies at AYC in 2020. I also have a certification in aqua yoga from White Crow Yoga Studio. My teaching experience includes yoga classes at Journey Through Movement yoga studio, Peachtree City Park District, online zoom, and Piedmont Health and Wellness at Pinewood Forest.