Eshna Kutty - Movement Therapist, Nike Ambassador, Founder of HoopFlo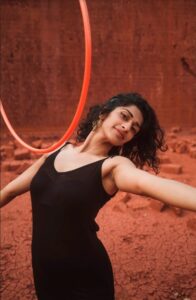 A pioneer in popularizing hooping in her country India, Eshna Kutty is an artist &  entrepreneur who is creating a movement of movers, to find authenticity and comfort in their flow. She's the first and only Nike catalyst in India in the field of dance, works full time with her startup Hoop Flo which provides hoops and online courses, and is a certified Dance Movement Therapy practitioner. Famous for her viral invention called #sareeflow, which was coined by SheThePeople as 'draping hooping with tradition, play and freshness', she's been featured on over a 100 magazines and news channels globally, including BBC UK, Grazia, Cosmopolitan to name a few. 
This is Eshna's first HoopFlo Movement Therapy teaching engagement in the U.S. She is excited to share her soulful hooping and purpose for this empowering flow art.