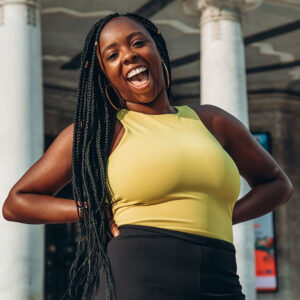 Simone Cherí is an impact-driven founder with a decade of commitment to creating digital brand experiences and marketing campaigns. In 2022, Simone embarked on her digital nomad journey and has since been living the dream of supporting clients and agency partners while traveling the world. Her mission is to create a global community of Black women who can truly support each other through the curation of wellness and travel programs rooted in feeling safe, seen, and supported.
In partnership with several amazing, radiant women – her facilitator partners – Simone is launching the You Are More Retreat (YAM) with the intention of creating a safe space and community for Black women who see themselves in each other, share similar mindsets and struggles, and most importantly that have daring visions for their life and legacy.
Simone is also the host of the podcast, She Looks Like Me, a safe space for Black women pursuing their passions to find community among like-minded visionaries, creators, and entrepreneurs.
For more information, visit simonecheri.com.
Events with Simone Cheri
You Are More
January 27 - 29, 2023
You Are More is a 3-day/2-night intention-setting wellness retreat for women of color. You Are More is designed to create safe space in community with women who see themselves in one another, share similar mindsets and struggles, and most importantly…