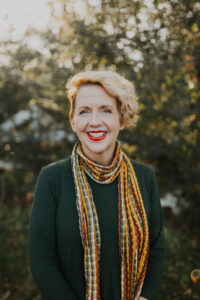 Lauretta's aim is to get you closer to your flame. To help you become more joyful, free, peaceful, authentic, and wild. This is at the heart of her teaching, writing, mentoring, speaking, everything.
Named the "Funniest Woman in Georgia" by Southern Living Magazine, Lauretta Hannon is the bestselling author of The Cracker Queen–A Memoir of a Jagged, Joyful Life (Gotham Books, Penguin) and has been a commentator on National Public Radio's All Things Considered, where her stories have reached 25 million listeners. Her memoir was named "One of the Top 25 Books All Georgians Should Read" by the Georgia Center for the Book. A documentary about her story, Raised in the South of Normal, captured several dozen awards at film festivals across the country.
First and foremost, Lauretta is a teacher. For over twenty years, she has taught and ignited individuals around the nation, in settings that range from universities to prisons.
A shameless promoter of joy and wonder, Lauretta recently presented a TEDx Talk titled, "This Sentence Will Transform Your Life." The talk is available on YouTube and explores the power of our words and stories. Speaking of words, she blogs and shares her Front Porch Views podcast at laurettahannon.com.
In addition, Lauretta has been a syndicated advice columnist in 23 newspapers and a blogger for The Huffington Post. In 2018 she was selected to be a faculty member at the prestigious Erma Bombeck Writers' Workshop at The University of Dayton. A Hambidge Fellow, she has completed numerous writing residencies at the Hambidge Center for Creative Arts and Sciences.
Lauretta is in-demand as a keynote speaker and offers self-growth seminars as well as one-on-one consultations for writers and spiritual seekers. She writes in a shed that was once the site of a covert moonshining operation. This pleases her to no end.
Events with Lauretta Hannon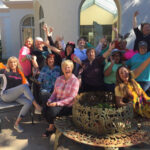 *Sold Out* She Who Laughs Retreat
November 2 - 5, 2023
The She Who Laughs Retreat is a spirited gathering designed to get you closer to your flame. On a gorgeous mountain in Northeast Georgia, we will go deep and lightly, guided by the wisdom of the most badass women…