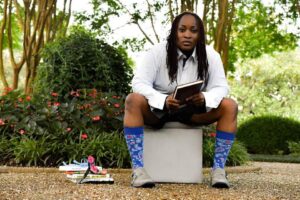 Tiffany L. Sevier is the Executive Director of The Sevier Centre for Radical Transformation and Wellbeing whose mission is assisting marginalized community members with reaching their personal goals by providing linkage to resources and assistance with developing the skills needed to do so.
Sevier is a Sony Recording Artist. Known as the little girl with the big voice at an early age, she is a local music prodigy. Her artistic forte includes singing, rapping, and choral music. Concurrently, her professional credits include song writer, composer, producer, and event curator. She also writes original poetry. She is also a creator because she invents, produces, or makes things such as one of her original characters named Gurtrude.
She is is also co-founder of the Tennessee Harm Reduction Coalition which is a statewide coalition for black indigenous people of color harm reduction providers and participants. THRC works to address the harms created by racialized drug policies impacting black and brown people. But all of that's not what makes her absolutely great.
Aside from her doing amazing things. She's a soldier in the US Army and considered a prolific loyal friend, sister, daughter, and mother. Tiffany is an ordained minister and Spiritual guide. Tiffany is also enrolled in seminary for chaplain candidacy.