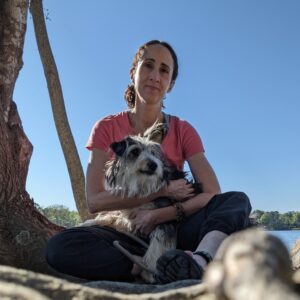 Karen Elizabeth Martin Co-Owner and 200hrCYT, LPTA, PWR(Parkinson's Wellness Recovery) therapist. My introduction to yoga happened many years ago when I took it as a P.E. class in college. I had been a competitive athlete in high school and expected yoga to be relaxing but not particularly difficult.  Then I met Swami Joan. Swami's class challenged me physically, spiritually and mentally. Her favorite mantra (usually repeated while we were holding in a difficult pose) was: "It's a shame to go through life half asleep".
I did not return to yoga until about 15 years ago, but that first class has always stuck with me. My yoga practice has seen me through various small injuries, and has been my drug of choice for rising to meet life's many challenges. Over the years, I have come to appreciate yoga as a dynamic and versatile practice that will meet us all where we are, and then grow and change with us when we are ready.
For the last 20 years I have worked as a Physical Therapy Assistant with a specialization in treatment of individuals with Parkinson's Disease.  In 2019 I completed my 200hr yoga certification and found that teaching yoga enriched my professional life and also opened up a new creative outlet for me outside of healthcare.  For the last 5 years I have been teaching at various studios and schools, and have worked with several specialty groups.  Becoming a teacher has reminded me that growth does not stop at 50 (or at any age) and that we all need to shake ourselves fully awake from time to time.