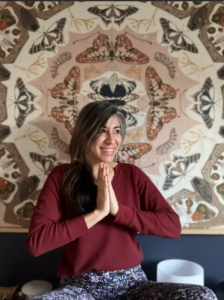 Adriana is a RYT-200 certified yoga teacher. She is currently working towards her 300 hrs certification. She has enjoyed a personal practice for over 20 years, participating in many workshops and retreats all over the world. Through yoga, Adriana builds the foundation of her mental, spiritual and physical health. Adriana first came to yoga because of serious back pain. At the beginning, yoga was just a way to relieve pain. However, she quickly discovered the inner calling to expand her knowledge beyond the physical aspects of this beautiful practice. 
Adriana started traveling and studying all aspects of yoga, learning about meditation, pranayama and yoga philosophy as a whole. After many years of personal development, she decided to deepen her practice further by becoming a yoga instructor. She is constantly learning and practicing different healing modalities to expand her knowledge. She completed courses/workshops in Ayurveda, restorative yoga, pranayama, meditation and menstruality among others. 
Last year, she started teaching at LIFT Yoga + Body and offering workshops and retreats from her home studio after forming Awakening Goddess. Adriana's approach to yoga is focused on creating a journey of self discovery through breath, movement and mindfulness. 
Adriana encourages all those around her to explore life with a sense of curiosity and adaptability. She wants students to feel peaceful, grounded and empowered. She hopes to simply be a vessel that will aid those down a path of awakening to become their most genuine and truest version of themselves.
https://linktr.ee/awakeninggoddess.ag