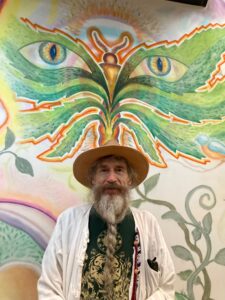 Musician, Sound Healer, Southern Visionary Artist
In his early 20's Flournoy Holmes visually defined the Southern Rock phenomenon of the early 1970's creating popular album covers and art work for bands like the Allman Brothers, Marshall Tucker, Wet Willie, Lynyrd Skynyrd, Charlie Daniels, Outlaws, Sea Level, Hank Williams Jr, Kansas and many others. The inside cover of the Allman Brothers "Eat A Peach" (which Duane Allman and Flournoy named) is one of the ultimate psychedelic art experiences in album art. Georgia Peach Growers Association said Flournoy's imagery has helped to bring the Georgia Peach to national prominence. He also created works at that time for groups such as Dr. John, Bruce Springsteen, Ted Nugent, Aerosmith, Carol King. His creative, influential and iconic images are still being used today after 40 years. His work is internationally recognized, in part through the medium of album covers. he has produced countless album covers and posters and in most cases the cover art is synonymous with the music itself. Flournoy epitomizes the creative force, as a multi- disciplined artist and continues to pursue painting, photograph, film making and music.
As a musician he has released his own music and works with sound in a shamanic context, as a healing modality and in ceremony. He has produced and played on many musical projects and soundtracks and his new groupFlying Mystics just released their third cd. One of the Flying Mystics YouTube videos is pushing 200,000. views and they are currently playing live.  Flournoy accompanies the Rebirthing Breathwork sessions with singing bowls, bells, drums, and live flute to assist each person's ultimate experience of relaxation on a deep level.
Events with Flournoy Holmes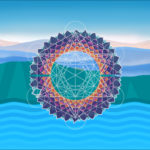 Breath, Movement, Sound
September 22 - 24, 2023
Are you ready rest  in the silence and bliss of your own inner Being? To reunite with your true soul's expression and feel your divine connection to all of life?  Isn't this what humanity is truly craving? We invite you…