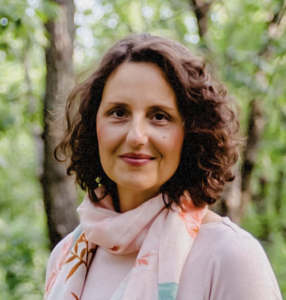 Regan Stacey is an artist and advocate for the Earth whose passion is to reconnect humans to nature for the betterment of themselves, their communities, and our planet. Through her private practice, she offers forest bathing and meditative walks in nature as well as mindfulness training and mindfulness in nature retreats.
Locally, she volunteers for a number of nature-based organizations and facilitates the Tree Collective, a teen conservation, stewardship, and education program she started in 2018 with the Lyme Land Trust.
Regan holds a Bachelor of Science in biology and a Master of Fine Arts in visual studies. She is qualified to teach mindfulness-based stress reduction (MBSR) through Brown University and is a certified mindfulness meditation teacher through Jack Kornfield and Tara Brach.
She lives in the hills of Lyme, CT with her family and dog pal, Winnie. You can often find her sitting with the trees – sometimes singing, sometimes drawing – whatever inspires.
Events with Regan Stacey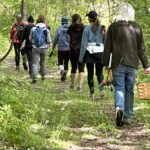 Forest Therapy Guide Training Retreat
June 19 - 23, 2024
The Forest Therapy School offers a mindfulness-based, experiential learning journey on the path to becoming a forest therapy guide. Forest therapy is a growing global wellness movement backed by 40 years of scientific research. A type of ecotherapy that focuses…