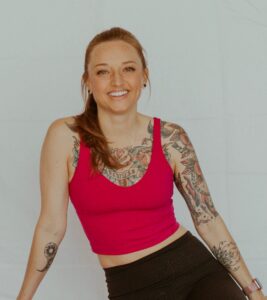 Megan Schlobohm is the owner of Anderson Yoga Center, and a fellow Yoga Instructor at the studio. Megan has been practicing yoga since 2003, and earned her RYT200 certificate in 2017. In 2018, she purchased the studio and began shaping it into the vibrant, fun, life-enriching place it is today. In 2020, Megan completed an additional 300 hours of advanced yoga teacher training with Sheila Ewers of John's Creek Yoga in Atlanta, GA, upgrading her certification to ERYT500. She is the lead instructor for Anderson Yoga Center's Yoga Alliance Registered Yoga School and its 200-hour Yoga Teacher Training Program, and also leads local and international Yoga Retreats.
Megan's main style of teaching is vinyasa-based, with a methodical pace; special focus on the breath; attention to safe alignment; and a positive message to take beyond the mat. Megan also teaches Gentle Flow, Yin Yoga, and Restorative Yoga, which are much slower and have a deeply relaxing, meditative vibe. Megan studies and teaches pranayama and meditation, offering guided pranayama and meditation classes and private lessons, as well as special pranayama and meditation events. Overall, she seeks to help students find a lifelong, fulfilling, sustainable practice, and greater quality of life.
Megan also teaches Kid's Yoga; Goat Yoga; and Paddleboard Yoga on Lake Hartwell, sharing even more joy and laughter with the community! She holds her Usui Reiki Master certification, and is additionally trained and certified in Aromatherapy (NAHA Level 1), Yin Yoga, Yoga Nidra Meditation, Thai Yoga Massage, and Power Sculpt Yoga. Megan has a Master's of Science in Counseling from Mercer University, and previous to being a yoga instructor and studio owner, spent 9 years as a professional chef alongside her husband, Ernie, working on luxury yachts in the Caribbean.
Events with Megan Schlobohm
BLOOM: Spring Yoga Retreat for New Beginnings
April 20 - 23, 2023
Join us for "BLOOM: Spring Yoga Retreat for New Beginnings," a 3-night Yoga Retreat at Elohee Wellness Center, nestled in the beautiful mountains of the Sautee Nacoochee National Forest. Guests will stay together in the Thanksgiving House, overlooking a 100-ft…