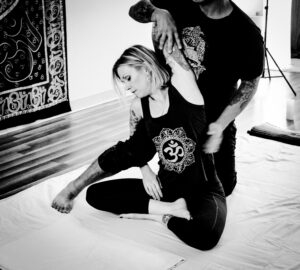 Jaymati is the Manager and a Teacher for Third Eye Yoga. She is accredited with a 500-hour E-RYT YACEP. The certifications she has received are in Amrit Body Psychology , Advanced Yoga Nidra, Posture of consciousness, Meditation in Motion, Master Reiki therapy, and over 100 certifiable hours in Vedic Thai bodywork. She is enrolled in her 800-hour Yoga Therapy training recognized by the International Yoga Alliance.
Jaymati specializes in Body/ mind connection. Her passion is to support your journey back to the source of infinite potential that lives in all sentient BEINGS. To truly heal our practice must bring balance to our physical, mental and emotional bodies.
Jaymati has been a practitioner of Yoga for 15 years. She has been a faithful student for 8+ years and has devoted her life to the study of the healing modality of Yoga.
Jaymati created and teaches the Integrated Hatha Yoga 200-hour certification curriculum for prospective Yoga teachers. She instructs classes in Restore, Posture of consciousness, Pranayama, Integrated Hatha, Yoga Nidra and Meditation in Motion. Robb and Jaymati create unique workshops and Yoga Retreats that aid Yogis in rejuvenation and restoration. She is available for scheduled private sessions in Vedic Thai bodywork, Yoga therapeutics, Yoga Nidra, Prenatal and children's Yoga.