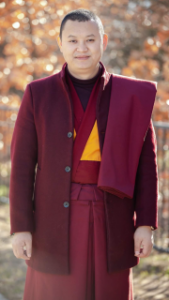 Tenzin Lama Sherpa teaches Usui Reiki and Buddhist meditation and philosophy. When he was only 13 years old, he finished his elementary education to become a Tibetan Buddhist Monk. When he was very young, he studied in a Tibetan Buddhist monastery, Namdroling, in south of India. Throughout his monastic life, he has received endless philosophical teachings, transmissions, and initiations from great lamas.
Tenzin has studied all the Buddhist Sutras including Theravada and Mahayana Buddhism. He has taught in Nepal, India, Chile, Mexico and throughout the US. In his monastic life, he also gave teachings and took care of the monks that were sick. While taking care of the sick, Tenzin felt compelled to become a doctor, but it wasn't possible to pursue becoming a doctor and a monk at the same time. He would discover another approach to healing, Reiki, that would fulfill both of these callings.
Once when he was sick, uncle suggested that he should take Reiki healing. He started taking Reiki sessions with a lama, and in three days he was fully recovered. His uncle suggested to him that he start learning Reiki healing. After finishing the first level of Reiki practice, his teacher requested him to assist in the Reiki center. Tenzin Lama started providing Reiki healing sessions at Nepal Reiki Meditation Center. In Nepal, Tenzin Lama offered his services in a reiki healing center, households, clinics, and other centers dedicated to social services. After finishing his second level of reiki, he started offerings his healing services at a distance in different parts of the country. After having finished the third level of reiki, he started to guide new reiki practitioners. He was also interviewed on FM radio, newspapers and magazines in Nepal, Chile, Mexico and US.
His master, Lama Ngawang, mentioned that Tenzin is one of the best healers among a group of 2000 students.
In 2005, Tenzin Lama's teacher received an invitation from a Chilean doctor to come to the country and Tenzin Lama's master appointed him to be the assistant to take part in Buddhist centers, in reiki healing centers, universities, and clinics from different parts of the country. Tenzin Lama also learned and exchanged knowledge with Reiki Masters and psychologists from Chile.
Over the last ten years, Tenzin Lama has given reiki to more than 12000 people and has taught reiki to more than 900 students. According to Tenzin Lama, Reiki is a healing method that has no side effects. Any person can learn meditation and reiki for either self-healing or for healing others. This healing practice promotes physical, emotional, mental, and spiritual growth.